...HIGH WIND WATCH REMAINS IN EFFECT FROM WEDNESDAY EVENING THROUGH LATE WEDNESDAY NIGHT...  * WHAT...Southwest winds 25 to 35 mph with gusts up to 55 mph possible.  * WHERE...Marathon, Portage, Waushara, Wood, Shawano and Waupaca Counties.  * WHEN...From Wednesday evening through late Wednesday night.  * IMPACTS...Damaging winds could blow down trees and power lines. Widespread power outages are possible. Travel could be difficult, especially for high profile vehicles.  PRECAUTIONARY/PREPAREDNESS ACTIONS...  Monitor the latest forecasts and warnings for updates.  &&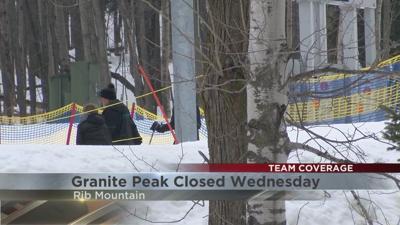 MARAHTON Co. (WAOW) — Warmer temperatures and forecasted rain causes winter sport resorts to close Wednesday. 
Granite Peak Ski Resort and Nine Mile All Sport Resort chose to shut its runs just until Thursday due to weather and wanting to give their employees a short break before the holidays. 
Granite Peak's General Manager sent WAOW a statement saying:
"We anticipate to open right back up again on Thursday with the same terrain we had open today and will be making snow immediately as temperatures are going to plummet."  
Granite Peak chose not to comment further. Stay up-to-date over on their site.
Keep up with Nine Mile here.