7 hr 30 min ago
US secretary of state says establishment of no-fly zone in Ukraine could lead to "full-fledged war in Europe"
From CNN's Jamie Crawford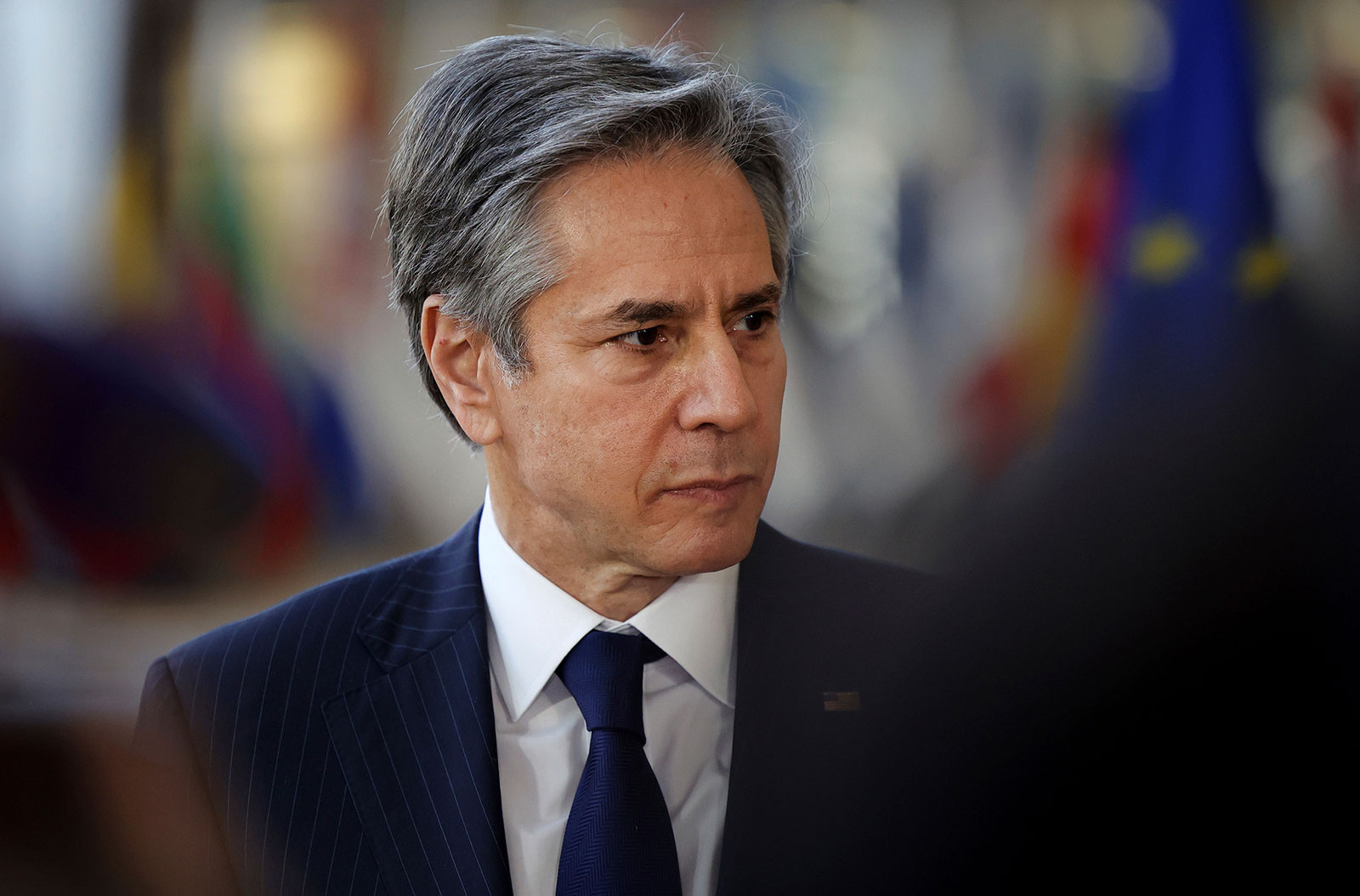 US Secretary of State Antony Blinken said the establishment of a no-fly zone in Ukraine by the United States and its NATO allies could lead to a "full-fledged war in Europe." He said Washington would continue to work with its allies to provide Ukrainians with the means to defend themselves from Russian aggression.
"The only way to actually implement something like a no-fly zone is to send NATO planes into Ukrainian airspace and to shoot down Russian planes, and that could lead to a full-fledged war in Europe. President Biden has been clear that we are not going to get into a war with Russia," Blinken said during a news conference Friday in Brussels, where he is meeting with European allies following Russia's invasion of Ukraine.
"But we are going to tremendous lengths with allies and partners to provide Ukrainians with the means to, to effectively defend themselves, and of course, we're seeing every single day their extraordinary heroism, as well as very, very real results in what they're doing to achieve that," he said.
"We are looking every day at what technologies, what capacities we can effectively deliver to, to Ukraine to defend itself, and that's an ongoing conversation, literally happening on a daily basis both with Ukraine and government officials, as well as among allies and partners. And so, the main focus is on making sure that anything we provide can be used, used effectively and in a timely way," Blinken said.
More background: Ukrainian President Volodymyr Zelensky has been calling for NATO and Western allies to enforce a no-fly zone over Ukraine amid Russia's ongoing invasion and aerial bombardment of its cities.
European Council President Charles Michel said on Thursday that enforcing a no-fly zone over Ukraine is a NATO decision, but that it would be "one step too far" with a "real risk of escalation and a real risk of a possible third international war." 
NATO's chief said Friday that a no-fly zone over Ukraine is not an option being considered by the alliance.
"We've agreed that we should not have NATO planes operating over Ukrainian airspace or NATO troops on Ukrainian territory," Secretary General Jens Stoltenberg said at a news conference in Brussels. 
8 hr 2 min ago
"No leakage" of radioactive material from Russian attack on nuclear power plant, Pentagon says
From CNN's Ellie Kaufman
There has been "no leakage of radioactive material" from the Zaporizhzhia nuclear power plant that was attacked by Russian forces, Pentagon spokesperson John Kirby said during an on-camera briefing at the Pentagon on Friday.
The Pentagon cannot speak to "what operational status" the power plant is in now or if Russians have control of the plant, Kirby said.
The Department of Defense is helping the Department of Energy in the US response to the incident, Kirby said.
"Because we have experience running nuclear power plants in the Department of Defense, we're a part of that effort providing some advice and counsel to the Department of Energy," Kirby said.
Kirby called the attack "exceedingly dangerous."
"Attacking a nuclear power plant is exceedingly dangerous and could have visited a lot more damage and destruction to the people of Ukraine and perhaps even to neighboring countries had this gone a different way," he said.
7 hr 44 min ago
Pentagon: Actions of Ukrainians have "stalled" large Russian military convoy headed toward Kyiv
From CNN's Ellie Kaufman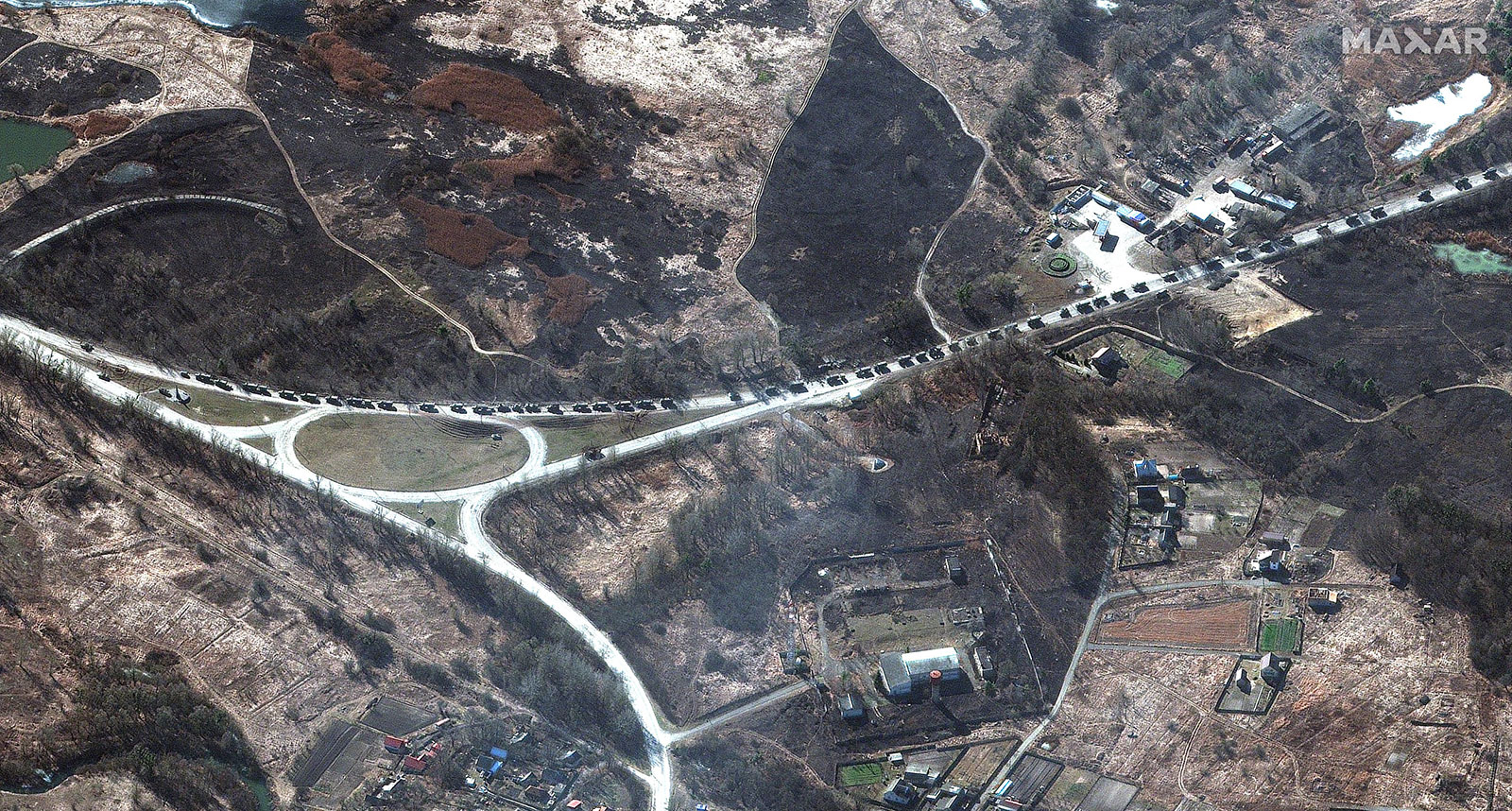 Actions by Ukrainians have "stalled" the large Russian military convoy headed in the direction of Kyiv, Pentagon spokesperson John Kirby said during an on-camera briefing at the Pentagon on Friday.
"We do have reports that a bridge was blown up that we believe was in the path there. We also have indications that the Ukrainians have struck the convoy elsewhere and on vehicles," Kirby said.
"We do believe that the actions of the Ukrainians have stalled that convoy, certainly slowed it down, stopped it in some places," he added.
The US also believes Russian forces' own challenges with sustainment, logistics and fuel have slowed the movement of the convey, Kirby said.
7 hr 45 min ago
Deconfliction phone line between US-Russia is being staffed by US European Command, Pentagon says
From CNN's Ellie Kaufman
The deconfliction line established this week between the US and Russia is a bilateral "US to Russia deconfliction level," Pentagon spokesperson John Kirby said during a briefing at the Pentagon on Friday.
The line is being managed by US European Command under Gen. Tod Wolters, the Commander of US European Command,
"It's being administered as a bilateral US to Russia deconfliction level, that's why it's being handled out of US European Command headquarters and not Gen. Wolters under his NATO hat," Kirby said.
Kirby said the deconfliction line is valuable "to reduce the risks of miscalculation and to be able to communicate in real-time, if need be, particularly now the airspace over Ukraine is contested by both Russian and Ukraine aircraft."
The phone line is "at a lower operational level," Kirby said.
"It's basically staffed by staff-level officers there at European Command headquarters," he continued.
More background: The deconfliction phone line that was set up this week between the US and Russia did work in its initial setup, a senior US defense official told reporters on Friday.
The phone line worked in the initial test call the US made to Russia, the official said.
"It is in place, the Russians have acknowledged it, in our initial test of it, they answered the phone, so we know that they know who's calling and that they will at least, in terms of the initial initiation of it, the setting up of it, it worked, and they did answer the line," the official said.
The establishment of the agreement was particularly noteworthy because until now Pentagon officials have said they have not had any direct communications with Russian counterparts since the invasion. 
There had been an effort to establish the communications line since late last month. Defense Secretary Lloyd Austin last spoke with Russian Defense Minister Sergey Shoygu on Feb. 18. The two also spoke one week earlier. Joint Chiefs Chairman Gen. Mark Milley last spoke to the Chief of Russian General Staff Gen. Valery Gerasimov on Feb. 11th.
The US has specifically rejected any no-fly zone over Ukraine saying it would put US pilots into a combat scenario in order to enforce such a plan. But the door is not shut on a potential future air humanitarian corridor to guarantee safe flight of relief supplies hostilities cease, officials say.                      
A deconfliction protocol has existed for several years between US and Russian forces in Syria. For the most part it has worked, although US officials have complained on several occasions the Russians have not given enough advance warning of their operations. The US does not give Russia detailed information but did notify them recently when US aircraft would be operating in a broad area northeast Syria. 
7 hr 27 min ago
Russia is blocking Facebook in the country
From CNN's Brian Fung
Russia announced Friday it is blocking Facebook in the country, according to its communications regulator.
 "In March 2022, a decision was made to block access to the Facebook network (owned by Meta Platforms, Inc.) in the Russian Federation," the statement said.
Meta president Nick Clegg responded to the ban, saying the company was doing "everything we can to restore our services" but that soon Russian users would be cut off from reliable information.
The White House also responded to the move, saying it was "deeply concerned."
"This is a pattern," press secretary Jen Psaki told reporters Friday, referring to Russia's effort to restrict information about the war in Ukraine by independent journalists, state-backed media, and now social media platforms.
"This is not necessarily a new approach that they have taken, but to crack down on information in their country to reach the people. So, certainly, we are deeply concerned about this and concerned about the threat to freedom of speech in the country," Psaki said.
8 hr 1 min ago
Ukraine's UN ambassador calls for urgent discussion on no-fly zone
From CNN's Kristina Sgueglia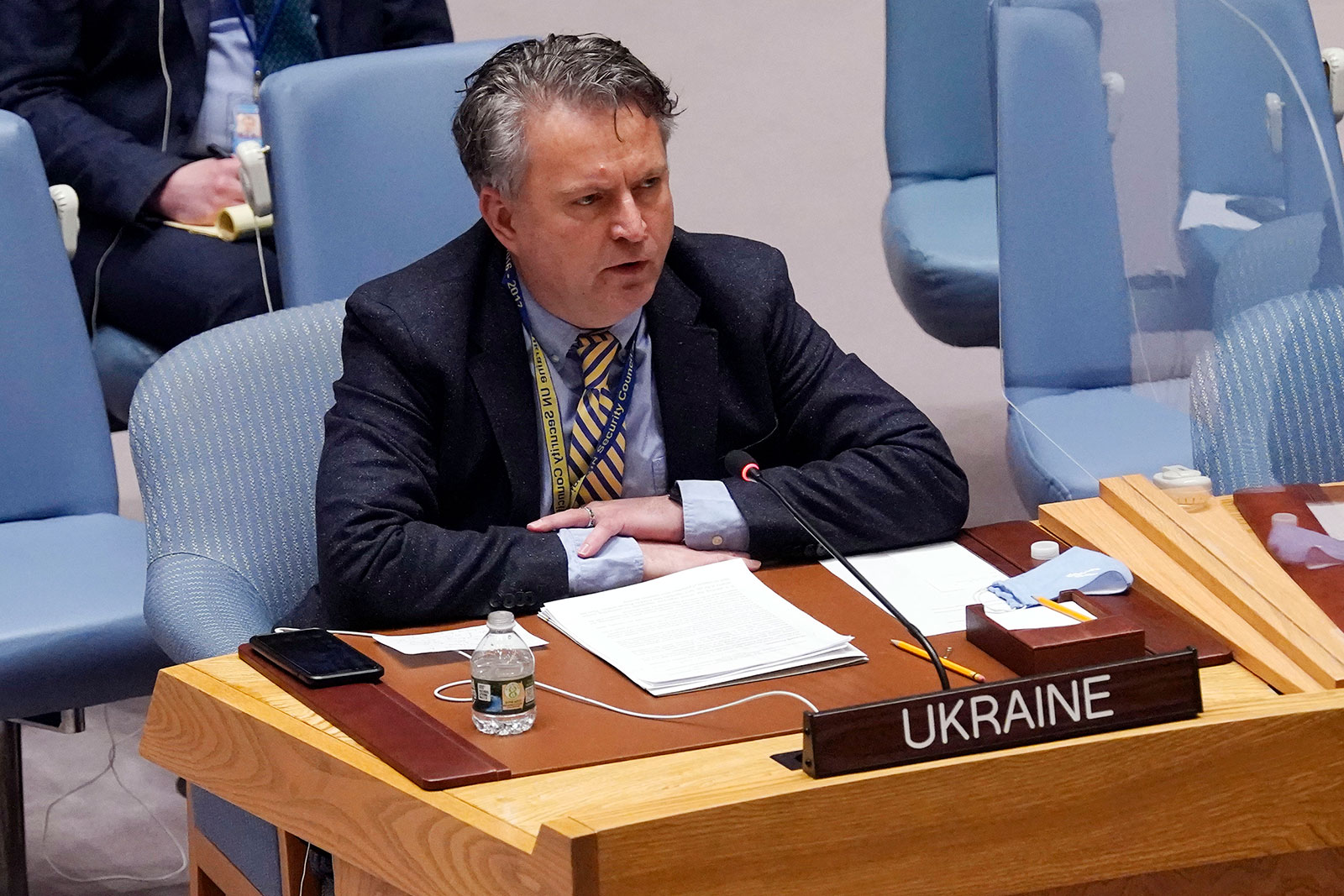 During a United Nations Security Council emergency meeting on Ukraine, the Ukrainian ambassador called for an urgent discussion on banning flights through air space in Ukraine and said there was damage to the nuclear plant attacked by Russian forces.
Sergiy Kyslytsya said Russia "committed an act of nuclear terrorism while shelling and seizing" the Zaporizhzhia nuclear power plant in Ukraine.
He also said his Russian counterpart, Vassily Nebenzia, had lied in his remarks. Nebenzia told the council that the nuclear plant is fully operational and there is no threat of a release of radioactive material.
Several employees responsible for maintaining nuclear security at the site have reportedly been killed by Russian soldiers, Kyslytsya said, and there has been no rotation of personnel since yesterday morning. 
CNN cannot independently confirmed any number of deaths.
"The building of unit 1, main building, is damaged. The overpass of the special building is damaged; the telephone line is disrupted and not available at the moment," Kyslytsya said.
He said state nuclear safety inspectors are not allowed access to the site, and changes in the radiation situation have not been registered. Data from the automated radiation monitoring system of the power plant "does not work."
In a statement Friday morning local time, the State Nuclear Regulatory Inspectorate (SNRI) confirmed the power plant was occupied by Russian military forces, but said officials remained in contact with plant management.
The plant's six reactors remained intact, though the compartment auxiliary buildings for reactor unit 1 had been damaged, the SNRI said in its statement. Four of the remaining units were being cooled down while one unit is providing power, the statement said.
He demanded clear and decisive action from the International Atomic Energy Agency. 
A top International Atomic Energy Agency official earlier told the council that "no security or safety systems have been compromised near the reactors themselves" at the plant.
Kyslytsya also said "urgent discussion" of a no-fly zone "should be a top priority for the security council."
"Today, I have sent a letter to the UNSC president reminding of the council's decisions on no-fly zone during previous conflicts in order to prevent further civilian casualties," he said.
"In this regard we request to consider the issue of protection of nuclear power plants and other critical infrastructure in Ukraine," he added.
7 hr 58 min ago
Biden talked to Poland's president about Ukrainian refugees and consequences for Russia today
From CNN's Kaitlan Collins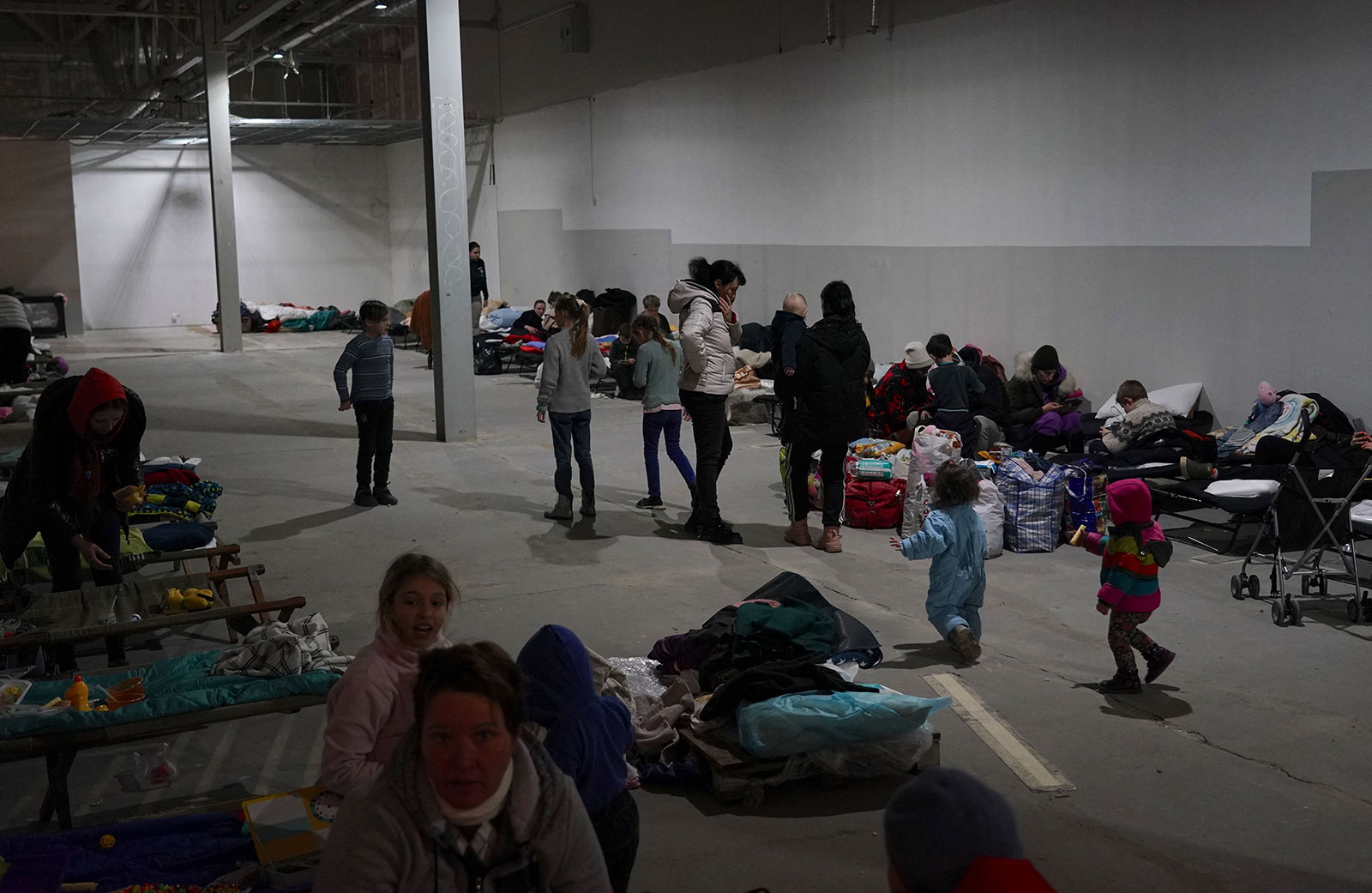 President Biden thanked Polish President Andrzej Duda for welcoming nearly 700,000 Ukrainians who have fled during the Russian invasion, the White House said of the call today between both leaders.
The White House noted that on the call, Biden highlighted how Poland is hosting 9,000 US forces, including 4,700 service members sent in recent weeks to bolster NATO allies. 
"The two leaders affirmed their commitment to the people of Ukraine, including the importance of providing urgent humanitarian assistance," according to the White House readout, which noted "ongoing efforts to impose severe consequences on Russia."
7 hr 51 min ago
Ukrainian president addresses several European cities, calls for solidarity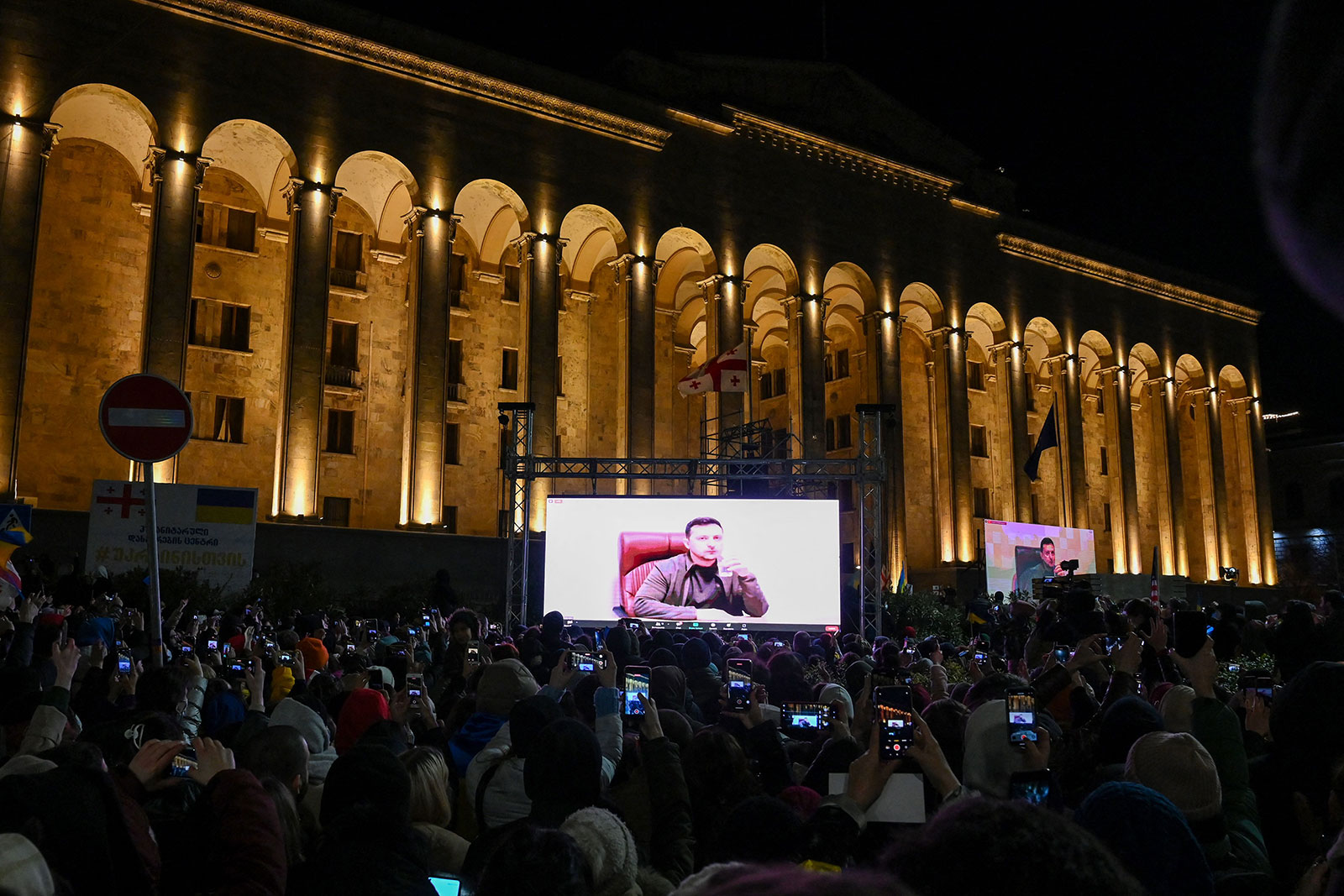 Ukrainian President Volodymyr Zelensky called for solidarity while speaking to several European cities on Friday.
During Zelensky's live message via Zoom, he encouraged Europe to stand with Ukraine and paused for a moment of silence to honor those who have fallen in this war, saying, "This first minute I would like to dedicate to the moment of silence to those who have fallen in the fight for their country, to our soldiers, to those who serve … those who are working as pilots, those who are making heroic deeds in different areas protecting their country and have given their lives away for this."
"Let us commemorate the soldiers. Rest in Peace," he said in the call with several European cities, including Bratislava, Frankfurt, Prague, Lyon, Tbilisi, Vienna and Vilnius.
Zelensky also shared some thoughts on the forces from across Europe, as well as "ordinary people" in Ukraine.
"I would like to wish all the best to the people of Europe … This is how our soldiers, our heroes … are greeting each other these days. These are the people who are protecting their homes, they're protecting our Ukraine, protecting our Europe, they're protecting your Europe and they're greeting each other, wishing each other good health," said the Ukrainian president.
"But from recently the soldier greeting, this army greeting, is something that ordinary people are starting to use in their day-to-day language when greeting each other because we are protecting our country from Russian invasion, from the Russian attack. We are protecting our homes and our land full-fledged and out of [Russian] war and Russian aggression," Zelensky said. "Today our servicemen, some of our military servicemen, serving our country in the army, others are serving as doctors with scalpels in their hands doing the surgical operations. [Others] are working to protect the children and their families. And this is our heart, this is the heart of Ukraine, standing together against the evil."
Zelensky used the final portion of his address to speak to people across the entire European continent, promising victory for Ukraine and the whole of democracy.
"I would like to dedicate to you, to the people of Europe. I would like to call upon you not to be silent. I would like you to come out on the streets and support Ukraine, support our efforts and support our fight because if Ukraine will not stand, Europe will not stand. If we will fall, you will fall so please don't be silent, do not turn the blind on eye on this," said Zelensky.
"Come out and support Ukraine as much as you can … And if we win, and I'm sure we'll win, this will be the victory for the whole democratic world. This will be the victory of our freedom. This will be the victory of light over darkness, of freedom over slavery. And if we win, we will become as blossoming as Europe, and Europe will be flourishing more than ever after this magnificent victory. Glory to Ukraine." 
Zelensky then held his fist up in the air in a salute.
8 hr 16 min ago
US energy secretary calls on Russia to allow Ukrainian nuclear operators to work "safely"
From CNN's Liz Stark
US Energy Secretary Jennifer Granholm tweeted Friday that "Russian forces are in control of the Zaporizhzhia nuclear plant" and called on Russia "to allow the Ukrainian operators to continue to operate safely – including allowing shift changes at both Zaporizhzhia and Chornobyl."
In a series of tweets, Granholm also praised Ukrainian operators for being "extremely responsible in how they responded to yesterday's appalling attack by safely taking 2 of the reactors offline." Granholm noted one reactor is currently "operating at partial capacity to keep the power grid stable."
Granholm also pointed out how the Zaporizhzhia nuclear power plant "is designed to withstand significant shelling or bombardment."
"We have seen no elevated radiation readings overnight. Safety systems are intact, and reactors continue to receive cooling," Granholm tweeted.