9 hr 37 min ago
Ukraine's ambassador to US: "We're ready for peace talks, we're not ready to surrender"
From CNN's Aaron Pellish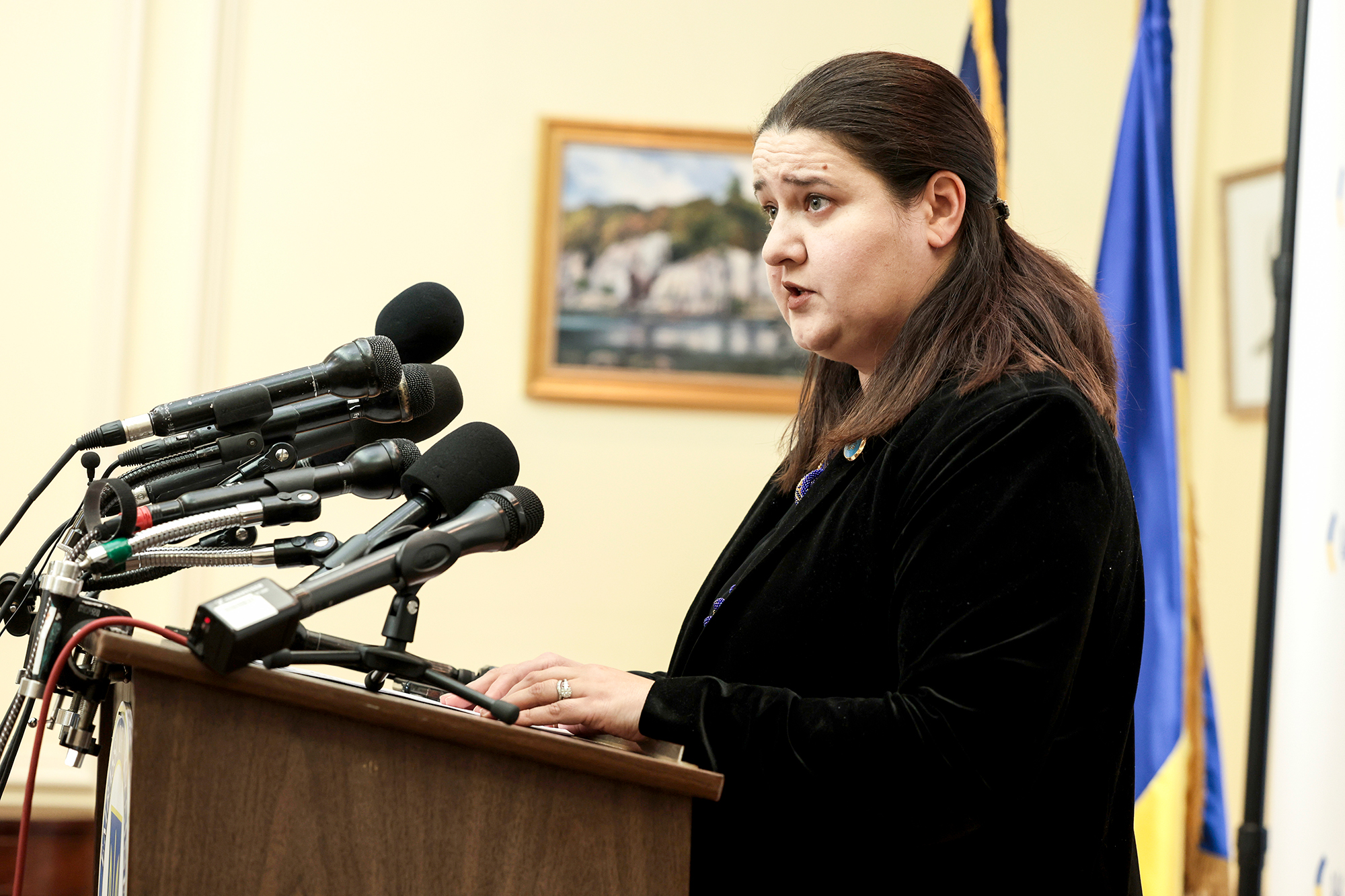 Ukrainian Ambassador to the US Oksana Markarova welcomed the news of talks with Russia as a possible way to end the Russian invasion of Ukraine but added her home country is "not ready to surrender." 
Markarova said in an ABC News interview on Sunday Ukraine's focus has always been on using diplomacy to resolve the conflict between Russia and Ukraine in response to news Ukraine has agreed to meet with Russian negotiators at the Ukrainian-Belarusian border. 
"Our president, from the beginning, even before the war started, always focused — was focused on the diplomatic solution," Markarova said. "And even after the war started, he actually called for peace talks all the time, but he always said, we're ready for peace talks, we're not ready to surrender," she said.
Markarova also called on the West to offer more military aid to the Ukrainian military and pushed the US and its allies to issue further sanctions on Russia. Markarova also called on US businesses to consider divesting from Russian businesses and financial institutions. 
"We are grateful for everything that is there already and that is about to come, and we need more because we are defending our country against a very strong enemy. We also need sanctions, more sanctions, and we need Russia to clearly see that and feel that it's not okay in the 21st century, to attack another country, a sovereign country without any reason," Markarova said. 
"And I also would like to use this opportunity also to call on American business," Markarova added. "I think it's time to think about saving reputations and not cooperating with a regime that will end up in The Hague for everything they've done and they're doing now to Ukraine," referring to the International Court of Justice where alleged war crimes are heard," she said.
Background: On Saturday, the White House, alongside the European Commission and other allies, announced their intent to expel some Russian banks from the international banking network SWIFT and target the Russian Central Bank with severe sanctions. 
Markarvoa also gave an update on the safety of Ukrainian President Volodymyr Zelensky, saying he is "as safe as our country." 
 "He is as safe as our country, and that's the choice he made to stay in Kyiv, to stay in Ukraine and lead the nation in this very difficult moment," Markarova said.  
9 hr 57 min ago
Ukrainian foreign minister: Putin's nuclear readiness move attempts to put pressure on Ukraine
From CNN's Ivana Kottasova in Kyiv
Ukrainian Foreign Minister Dmytro Kuleba said Sunday that Russian leader Vladimir Putin's order to put Russian deterrent forces on alert was an effort to raise pressure on the Ukrainian delegation at Monday's scheduled talks.
"As you notice, this order by President Putin came shortly after the announcement was made about the two delegations ready to meet. And we see this announcement this order, as an attempt to raise stakes and to put additional pressure on the Ukrainian delegation," Kuleba said a briefing in Kyiv.
Kuleba added, "But we will not give into this pressure" and said, "We will approach this talks with a very simple approach."
Kuleba indicated that Ukrainian officials are willing to "listen to what Russia has to say."
"We will tell them what we think of this. And what we are ready to discuss is how to stop the war and the occupation of our territories. Full stop,'" the foreign minister said.
Kuleba said Putin's decision "to put on high alert his nuclear weapons is a direct threat to us. I have very simple message. It will be a catastrophe for the world, but it will not break us down."
9 hr 54 min ago
White House says Russia's invasion of Ukraine will be part of Biden's State of the Union address Tuesday
From CNN's Sam Fossum
White House press secretary Jen Psaki said Sunday that the current Russian invasion of Ukraine will be included in US President Joe Biden's State of the Union address on Tuesday. 
"I think there's no question that in the State of the Union, the American people and anybody watching around the world will hear the President talk about the efforts that he has led over the past several months to build a global coalition to fight against the autocracy and the efforts of President Putin to invade a foreign country. That is certainly something that is present in all of our lives and certainly in the President's life in this moment," Psaki told ABC's George Stephanopoulos on "This week." 
Psaki added that in his State of the Union address Biden will also reflect on the "resilience" and "strength" of Americans and that he will speak about what lies ahead for the country, noting that the speech is about "delivering a message to the public in a moment in time." 
"What people will also hear from President Biden is his optimism and his belief in the resilience of the American people and the strength of the American people," Psaki said. "Leaders lead during crises, that's exactly what President Biden is doing, he'll speak to that, but he's also going to speak about his optimism about what's ahead and what we all have to look forward to."
10 hr 7 min ago
White House official: Putin's move on deterrence forces "yet another escalatory" and "unnecessary step"
From CNN's Arlette Saenz
Russian President Vladimir Putin's decision to put his country's deterrence forces, including nuclear arms, on high alert, is "yet another escalatory and totally unnecessary step," a senior Biden administration official says.
"At every step of this conflict Putin has manufactured threats to justify more aggressive actions — he was never under threat from Ukraine or from NATO, which is a defensive alliance that will not fight in Ukraine," the official said. "The only reason his forces face a threat today is because they invaded a sovereign country, and one without nuclear weapons. This is yet another escalatory and totally unnecessary step," the official added.  
More background: During a televised meeting with Defense Minister Sergei Shoigu and chief of the General Staff of the Russian Armed Forces Valery Gerasimov earlier today, President Putin said, "Top officials in leading NATO countries have allowed themselves to make aggressive comments about our country, therefore I hereby order the minister of Defense and the chief of the General Staff [of the RF Armed Forces] to place the Russian Army Deterrence Force on combat alert." 
Shoigu replied, "Yes, sir."
10 hr 11 min ago
Ukraine-Russia talks will happen Monday, Ukrainian official says 
From CNN's Tim Lister and Matthew Chance in Kyiv
Ukraine's Deputy Interior Minister Evgeny Yenin says talks between Russian and Ukrainian delegations will take place Monday morning local time.
President Volodymyr Zelensky's office said Belarus President Aleksander Lukashenko called the Ukrainian President earlier Sunday.
"The politicians have agreed that the Ukrainian delegation will meet with the Russian delegation without preconditions on the Ukrainian-Belarusian border, near the Pripyat River," his office said.
"Aleksander Lukashenko has taken responsibility for ensuring that all planes, helicopters and missiles stationed on the Belarusian territory will remain on the ground during the Ukrainian delegation's travel, meeting and return," the office continued.
10 hr 14 min ago
Over 4,000 detained across Russia as anti-war protests enter fourth day, independent monitoring group says
From CNN's Vasco Cotovio in Moscow
Russian authorities have detained a total of 4,124 people for participating in unsanctioned anti-war protests across the country, since the Kremlin ordered an invasion of Ukraine, independent monitoring site OVD-Info said on Sunday. 
As of 9:50 a.m. ET, 1,002 people had been detained for protesting in 44 cities throughout the country, OVD-Info also reported. 484 were detained in Moscow alone. 
Under Russian law, large demonstrations require protesters apply for a permit, which has to be submitted no more than 15 but no less than 10 days before the event.
Heavy fines — and in some cases even prison time – can be imposed on those who protest without a permit. Individuals are allowed to stage "single pickets," which are solo protests but it is not unheard of for people to be detained for those as well.
On Thursday, Russia's Investigative Committee warned that participation in any anti-war protest was illegal. It also said that offenses could be entered on participants' criminal records which would "leave a mark on the person's future"
10 hr 16 min ago
Pro-Kremlin Chechen leader Kadyrov calls for expanding Russian invasion "in all directions"
From CNN's Nathan Hodge
Ramzan Kadyrov, the pro-Kremlin leader of Russia's Chechnya region, called on the Russian military Sunday to expand its military offensive in Ukraine. 
"The time has come to make a concrete decision and start a large-scale operation in all directions and territories of Ukraine," Kadyrov said in a statement on his Telegram account. "I myself have repeatedly developed tactics and strategies against terrorists, participated in battles. In my understanding, the tactics chosen in Ukraine are too slow. It lasts a long time and, in my view, are not effective," he said.
Added Kadyrov: "Full coordination of the actions of the military, competent alignment of forces and a decisive assault. That's it! Nothing else is needed."
Kadyrov has been accused by international and independent observers of gross human-rights violations in his home territory and beyond. He leads sizable paramilitary forces that — while formally a part of Russian security structures — have personal loyalty to him.
10 hr 18 min ago
White House responds to Russia's decision to put nuclear forces on high alert
From CNN's Sam Fossum
White House press secretary Jen Psaki said Sunday that Russian President Vladimir Putin's decision to put Russia's nuclear forces on high alert are part of a wider pattern of unprovoked escalation and "manufactured threats" from the Kremlin. 
"This is really a pattern that we've seen from President Putin through the course of this conflict, which is manufacturing threats that don't exist in order to justify further aggression — and the global community and the American people should look at it through that prism," Psaki told ABC's George Stephanopoulos on "This Week."
She added: "This is all a pattern from President Putin and we're going to stand up for it, we have the ability to defend ourselves, but we also need to call out what we're seeing here from President Putin."
When asked about further military aid or sanctions, Psaki said that the US is prepared to send more humanitarian, economic and defensive military supplies, noting the administration's most recent announcements of aid since the conflict started. 
"I would note that the sanctions that we announced yesterday put Russia on par with Iran, cutting them off from a banking system with the global community," Psaki said. 
Pressed on if the US would take more immediate action against the Russian energy sector, Psaki said that everything is "on the table," and added that the Administration believes the current conflict illustrates that the US should bolster its domestic supply of energy and diversify beyond oil and gas.  
Psaki added that the US remains in close contact with Ukrainian President Volodymyr Zelensky and praised him for his leadership over the course of the first few days of the current war. 
"He is standing up courageously against the invasion of President Putin and Russian leadership," Psaki said. "We will remain in close contact with him."
10 hr 11 min ago
Romney calls for US to continue "cranking up the sanctions" against "evil regime" of Russia
From CNN's Chandelis Duster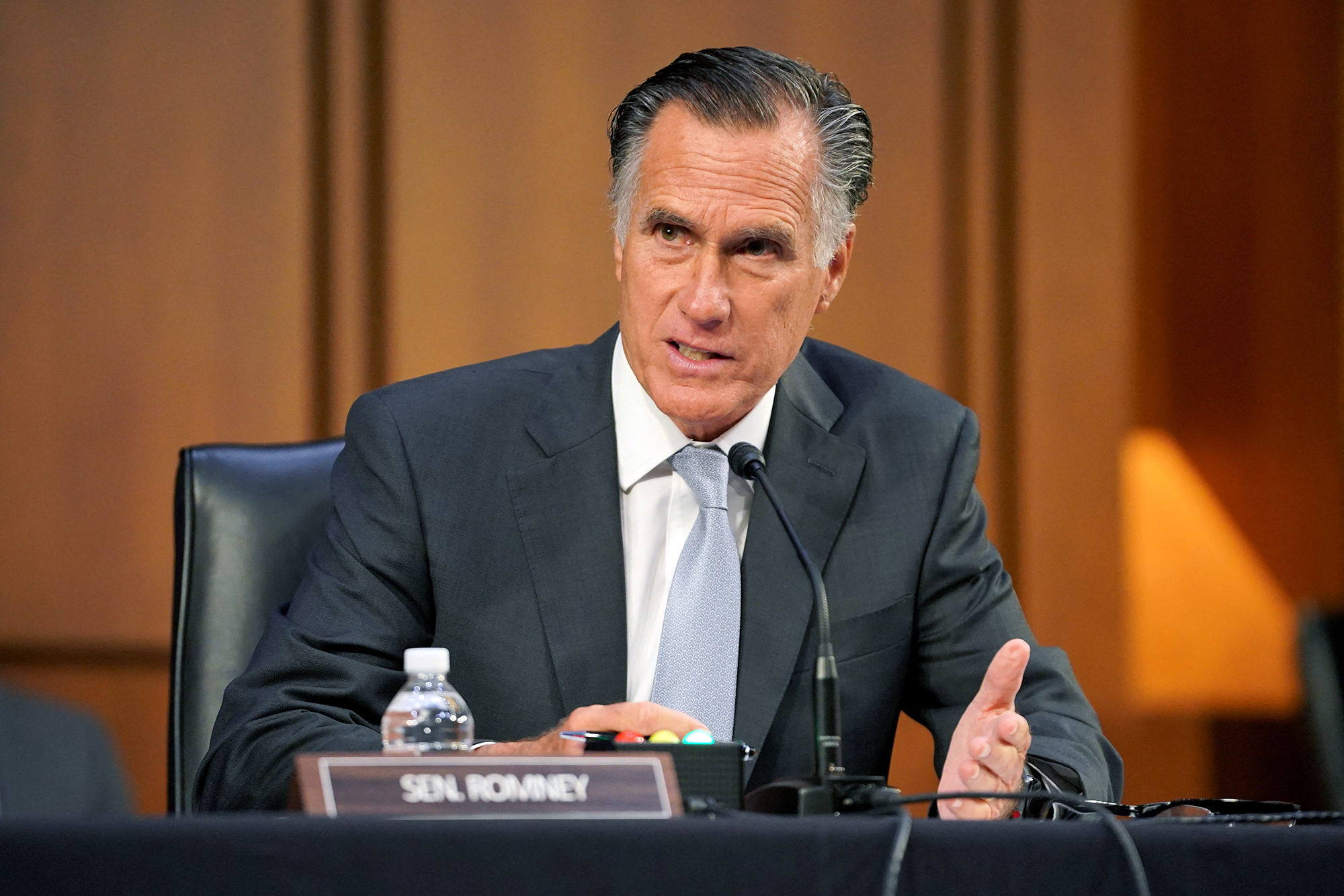 Utah Sen. Mitt Romney, a Republican, on Sunday called the Russian government "a pariah" and said the US should continue "cranking up the sanctions against what is an evil regime."
"The world is behind the people of Ukraine. … The Russian government is a pariah, and the entire world should be protesting and letting Russia know how badly they're seen on the world stage," Romney told CNN's Dana Bash on "State of the Union."
The Utah senator in 2012, who would end up being the Republican nominee, called Russia "our number one geopolitical foe," during an interview with CNN's Wolf Blitzer.
"They — they fight every cause for the world's worst actors," he said back then.
Asked if it was the right move for the US and Western countries to announce additional sanctions Russia and expel certain Russian banks from SWIFT, Romney said "keep cranking that up."
"As Mitch McConnell said, you can't get the sanctions too high. At the same time recognize that for the sanctions to be most effective, you want them to be shared with our allies around the world. We want to all be together on this. So we can only go as fast as everybody wants to move together. So that's critical. But those sanctions will have an impact," he said, adding that it's "good news" for them to go after the rich oligarchs in the sanctions. "Let's keep on cranking up the sanctions against what is an evil regime."