SpaceX creating the noise of progress in McGregor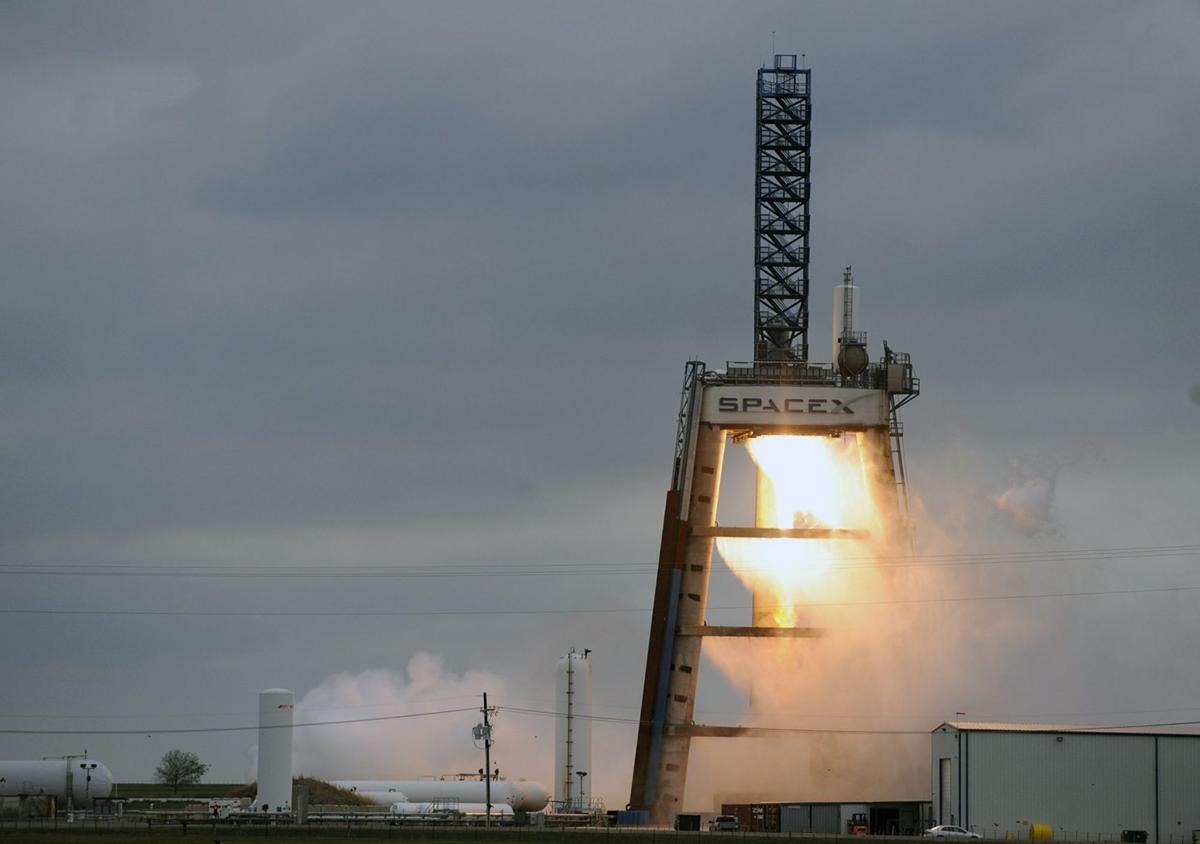 McGregor City Council Member Steven Dutschmann remembers a Sunday morning in November when, aggravated by SpaceX's rocket testing, he vainly searched for a phone number, email address or company contact. He wanted someone to explain why SpaceX had obliterated his sound barrier.
"If I had a neighbor making this much noise, I'd call the police. Here, I didn't have anyone to call," Dutschmann said. "I get it. They have a business to run. But that does not give them the right to disturb the peace."
McGregor and SpaceX have developed a symbiotic relationship. Elon Musk's company leases nearly 4,300 acres in the city's industrial park, where it tests the rocket engines it uses to haul satellites and other payloads into orbit. Under development nearby is a second plant, a $150 million facility to build nearly a thousand Raptor 2 rocket engines annually.
Musk first broached the subject of McGregor landing a rocket production plant in July, tweeting it would champion volume production of Raptor 2 rocket engines, while a factory in California would focus on Raptor Vacuum rockets.
"On a normal basis, SpaceX is not a problem," said Shannon Torn, who owns Cedar Chest Antique Mall on Highway 84 in McGregor. "Locals are used to it. If they hear a rumble, they say, 'Oh, it's SpaceX,' and they don't pay any attention or notice. Out-of-town visitors think a tornado is coming."
Torn said testing takes place periodically throughout the day, without notice or warning. Though she isn't bothered, she said she noticed right before the holidays that test burns, as they are called, seemed louder and more intense. The difference between then and now caused her to wonder if SpaceX placed testing on "holiday hiatus."
Multiple sources said SpaceX is actively pursuing a solution, not wanting to antagonize a community on which it has staked its future.
"Yes, there has been an increase in intensity, and that has been addressed with the company," said Andrew Smith, executive director of the McGregor Economic Development Corp. "They want to be good neighbors."
He said city management and the McGregor City Council got involved.
Specifically, SpaceX continues installing a new test stand that muffles testing noise significantly, he said. SpaceX has had a presence in McGregor since 2003, and before that, the nearly 10,000 acres comprising the city's industrial park was occupied by the U.S. Navy and defense contractors.
Smith said the new vertical test stand should be online within 60 days.
McGregor Mayor Jim Hering wrote a letter to residents in mid-December, addressing the situation and requesting patience with SpaceX, which he described as a first class corporate citizen that has been true to its word.
"For all the great things that SpaceX has done and brought to our city, we recognize that this 'goodwill' is difficult to maintain in the midst of a house-shaking engine test," Hering wrote. "As SpaceX has transitioned from manufacturing and testing of Merlin engines to Raptor engines, the noise and vibration has grown significantly. … Raptor engines power SpaceX's Starship, the world's most powerful launch vehicle ever developed that will carry people to the Moon, Mars and beyond."
He said the rumble residents hear, feel and see the effects of "is a low frequency sound. It is not high decibel noise, nor is it ground vibration." He said winter weather conditions can make the rumble sound louder.
SpaceX first test-fired a Raptor engine in September 2016, and first test-fired a Raptor Vacuum, the version to be used on space vehicles while outside Earth's atmosphere, in September 2020.
McLennan County Judge Scott Felton said he believes county commissioners are confident appropriate action is underway to address concerns with testing noise. He said new systems can better absorb power and noise that testing generates.
Felton said he is not personally aware of property damage caused by testing, but has heard of foundation issues and window cracking.
"There are areas of displeasure with what progress brings," Felton said. "SpaceX is a good community partner, and very open to discussion."
SpaceX in summer 2020 announced it would spend about $10 million on infrastructure improvements, including "noise suppressors," at its McGregor testing site. The city of Waco and McLennan County Commissioners voted to give SpaceX $2 million from the city-county economic development fund.
At that time, McGregor City Manager Kevin Evans downplayed any noise issue related to SpaceX, saying he had received no complaints in a long time. He said SpaceX did not come close to decibel limits the city put in place.
He said then SpaceX must not fire rockets after 11 p.m. If it tests between 9 p.m. and 11 p.m., McGregor charges a fee: $10,000 the first time, $15,000 the second, and $25,000 each time after that, with a reset each year.
Evans could not be reached for additional comment Thursday.
Dutschmann said testing "shakes my house pretty good." He said he lives about 3 miles from SpaceX but hears from friends and relatives living all over Greater Waco and beyond who inquire about the chronic rumbling.
He contends years of testing may have damaged a brick fence surrounding his property, and cracked concrete around his swimming pool.
"I was told by SpaceX community relations that they will send out an adjuster to make inspections if contacted," he said. "I'm going to do that."
Get the latest local business news delivered FREE to your inbox weekly.