1 hr 4 min ago
US secretary of state says he's "absolutely convinced that Putin will fail"
From CNN's Jennifer Hansler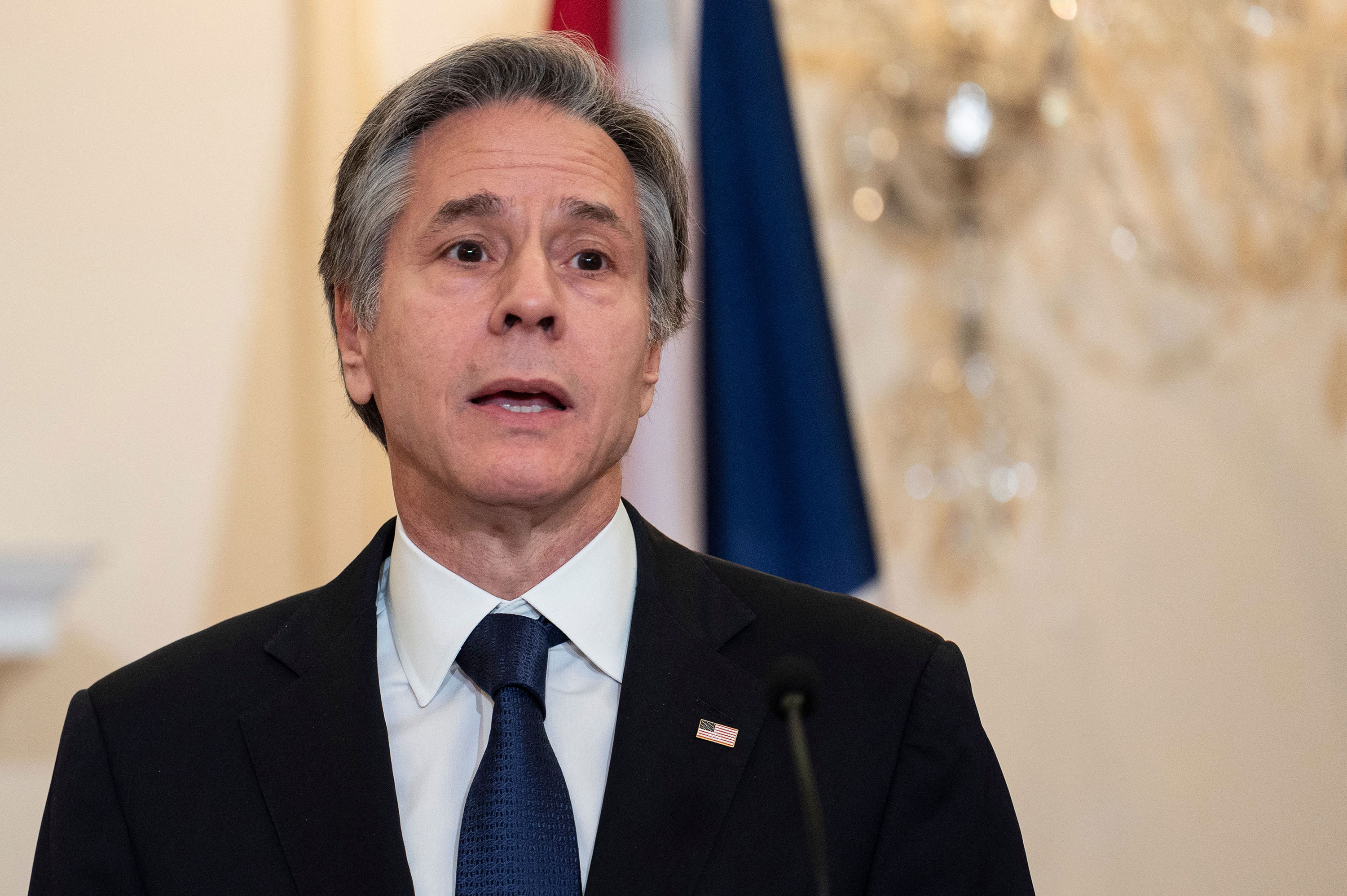 US Secretary of State Antony Blinken said Wednesday that he is "absolutely convinced that Putin will fail and Russia will suffer a strategic defeat."
"As we've said before, you can win a battle, but that doesn't mean you win the war – on the contrary. You can take a city but you can't take the hearts and minds of its people and Ukrainians are demonstrating that every single day," Blinken said at a news conference at the State Department alongside his British counterpart, Foreign Secretary Liz Truss.
The top US diplomat said that if Putin's "goal is to impose some kind of puppet regime by displacing the existing government and putting in place one to his liking, I think it's pretty evident by the response of the Ukrainian people that they will never accept that."
"And if he tries to enforce such a puppet regime by keeping Russian forces in Ukraine, it will be a long, bloody, drawn-out mess in which Russia will continue to suffer grievously," Blinken said.
Blinken said the US had sought to provide off-ramps to the Russian leader, but "every time there's been an opportunity to" take them, "he's pressed the accelerator and continued down this horrific road that he's been pursuing."
Blinken said Russia had already "failed in its chief objectives."
"It's not been able to hold Ukraine. It's not going to be able to hold Ukraine in the long term, again, no matter what the tactical victories it may achieve are," he said.
The secretary of state went on to say the economic measures taken by the global community have "erased 30 years of progress integrating Russia into the world" and the "dramatic exodus" of global companies from Russia is having "a profound impact" in the short and long term.
1 hr 24 min ago
More than 2,500 Ukrainian refugees have arrived in Ireland with more expected, Irish justice minister says
From CNN's Niamh Kennedy in London  
At least 2,500 Ukrainian refugees have arrived in Ireland so far with more set to arrive later Wednesday, Irish Justice Minister Helen McEntee said. 
Speaking to reporters at the Dublin Airport on Wednesday, McEntee said the Irish government is trying to process the arrivals "as quickly as possible" and "provide what they need to them."  
Ireland has opted into the EU initiative to offer refugee's temporary protection, waiving visa requirements for up to three years.  
At least two thirds of the Ukrainian arrivals are female, the justice minister said, adding that one third of all arrivals have sought out temporary accommodation.  
"There's a lot of children coming in, so we have rooms, with toys with cots with cartoons on. You know, people have traveled for days, they're exhausted, they have gone through a very traumatic experience," McEntee told Irish radio station Newstalk in an interview Wednesday.  
Irish Department of Justice officials are present in the airport greeting refugees and working with them to secure national identity numbers and accommodation, according to Roderic O'Gorman, Irish Minister for Equality. 
O'Gorman told Irish radio station RTÉ Radio 1 Tuesday that the Irish government is setting up a dedicated unit under his department to deal with Ukrainian refugees.  
Ireland has "significantly expanded" its short-term hotel capacity, O'Gorman said, stressing that hotel accommodation remains the "short term response" to the issue.  
The Irish government recognizes the need for "a long-term response as well," adding that there is more work to be done before bringing proposals to the government. 
1 hr 29 min ago
Amazon halts retail shipments to Russia and cuts off Prime Video
From CNN's Brian Fung
Amazon has suspended access to Prime Video in Russia, and the e-commerce giant is no longer shipping retail orders to customers in both Russia and Belarus, the company said Tuesday.
In addition, Amazon added, it is no longer selling New World, the company's recently released online multiplayer video game, in Russia.
The decisions mark the latest steps by Amazon to back away from Russia, and coincide with a move CNN previously reported to halt new signups for Amazon Web Services, Amazon's massively lucrative cloud computing platform.
"Given the ongoing situation in Russia and Ukraine, we've taken additional actions in the region," Amazon said in a blog post. "We've suspended shipment of retail products to customers based in Russia and Belarus, and we will no longer be accepting new Russia and Belarus-based AWS customers and Amazon third-party sellers. We are also suspending access to Prime Video for customers based in Russia, and we will no longer be taking orders for New World, which is the only video game we sell directly in Russia."
The announcement follows an earlier Amazon statement that it has been providing cybersecurity assistance to Ukraine and had observed malicious state and non-state actors attempting to hack "charities, NGOs, and other aid organizations in order to spread confusion and cause disruption."
1 hr 32 min ago
University and Mariupol city building near hospital also hit by apparent Russian military strike, videos show
From CNN's Paul P. Murphy, Katie Polglase, Celine Alkhaldi, Gianluca Mezzofiore, Anatasia Graham-Yooll and Mariya Knight
A city administration building and a university in Mariupol, less than a kilometer from the children's and maternity hospital that Ukrainian officials say was bombed by Russian forces, has been identified by CNN as a second location in the city hit by an apparent Russian military strike.
CNN was able to identify Pryazov State Technical University and the Mariupol City Council Administration building as the second military strike location in Mariupol through videos posted to social media, which were geolocated and verified as authentic.
The videos show significant destruction at the university and city council building.
In one video, an alarm is heard echoing out as the remains of a minivan are seen. The video pans to show the destroyed buildings and debris-covered street. Explosions are heard in the video, but it's unclear what is causing them. 
"This is [PSTU],"a man is heard saying, referring to the university. 
Another video showed the remains of a restaurant on the ground floor of one of the bombed-out buildings. 
"Behind the fighting remains, as you can hear," the man said.
A third video shows that a portion of a building has collapsed. 
The explosion at the university and city council building took place around the same time as the explosion at the children's and maternity hospital.
1 hr 42 min ago
WHO has verified 18 attacks on health facilities in Ukraine, director general says
From CNN's Virginia Langmaid
The World Health Organization (WHO) has verified 18 attacks on health care facilities in Ukraine so far, Director-General Dr. Tedros Adhanom Ghebreyesus said Wednesday. 
So far, WHO has verified 18 attacks on health facilities, health workers and ambulances, including ten deaths and 16 injuries," Tedros said in a media briefing. 
"More than 2 million people have left Ukraine and WHO is supporting neighboring countries to provide health care for refugees, most of whom are women and children. Some of the main health challenges we see are hypothermia, and frostbite, respiratory diseases, lack of treatment for cardiovascular disease and cancer, and mental health issues. WHO personnel and have been deployed to neighboring countries to provide mental health and psychosocial support."
Tedros said the organization has delivered 81 metric tons of supplies to the region and is working on establishing a pipeline to get supplies to health facilities. 
"Yesterday, we delivered 5 metric tons of medical supplies to Kyiv to support surgical care for 150 trauma patients and other supplies to manage a range of health conditions for 45,000 people for a month. More supplies will be distributed today," he said. 
Dr. Adelheid Marschang, senior emergency officer, said "remarkably" Covid-19 surveillance in the country remains in place and cases appear to be decreasing. 
"We have to say remarkably, Ukraine has maintained its Covid-19 surveillance and response system. And we have noted in the last week 731 Covid-19 deaths, the numbers of cases seem to decrease," she said, noting that the organization is also monitoring the risk of spread of measles and polio in the crisis. 
"The reality is that the conditions we see in Ukraine are the worst possible ingredients for the amplification and spread of infectious disease," said Dr. Mike Ryan, director of the WHO Health Emergencies Programme. 
"It doesn't matter if it's Covid, doesn't matter if it's polio, doesn't matter if it's measles, doesn't matter if it's cholera. You put that many people in desperation on the move, women and children packed together, people in basements. People stressed, people not eating, not sleeping. These are the conditions which immune systems are weak. People's defenses are low, and infectious diseases can rip through populations like this," Ryan said.
The only real solution to this situation is peace," Tedros said.
"WHO continues to call on the Russian Federation to commit to a peaceful resolution to this crisis and to allow safe, unimpeded access to humanitarian assistance for those in need. A peaceful resolution is possible, and that's true in every war and humanitarian crisis to which WHO is responding around the world," the director general said.
1 hr 54 min ago
British foreign secretary says UK will supply air defense systems to Ukraine
 From CNN's Sugam Pokharel and Sharon Braithwaite
British Foreign Secretary Liz Truss said on Wednesday that the UK will supply air defense systems to Ukraine. 
"The best way to help protect the skies is through anti-air weaponry, which the UK is now going to be supplying to Ukraine," Truss said speaking alongside her American counterpart Secretary of State Antony Blinken in Washington. 
The UK is not seeking to set up a no-fly zone over evacuation corridors in Ukraine as that would "lead to a direct confrontation between NATO and Russia. And that is not what we are looking at," she said.
Truss said the UK would like see a full ban on Russia from the SWIFT payment system and all the G7 countries ending its use of Russian oil and gas.  
"So we must go further and faster in our response. We must double down on our sanctions," she added. 
The foreign secretary said that while Russia's invasion of Ukraine is causing "immense pain and suffering," Russian President Vladimir Putin is "not making the progress he planned." 
"We have surprised Putin with our unity and the toughness of our sanctions, hitting the banks, the ships, the planes, the oligarchs, and the oil and gas revenues. And the brave Ukrainian people have surprised him with their determination and their leadership," she said.  
Now is not the time to let up. Putin must fail," Truss said. 
1 hr 59 min ago
US defense official says Russia still has about "90% of their available combat power" ready to use in Ukraine
From CNN's Ellie Kaufman
Russia has about "90% of their available combat power still ready for their use" in Ukraine, a senior US defense official told reporters on Wednesday.
The US assesses Russia no longer has "several hundred vehicles of different stripes and sizes" available to them, but the US does not know if those vehicles were captured, destroyed or abandoned, the official added.  
CNN first reported Tuesday that the US estimated that as much as 8% to 10% of Russian military assets used in the invasion of Ukraine are now destroyed or inoperable, according to a US official familiar with the latest intelligence as of Tuesday.
The equipment lost includes tanks, aircraft, artillery and other military assets. That is close to double the losses that CNN reported last week when it was estimated Russia had lost 3% to 5% of its military assets.
2 hr 16 min ago
British prime minister condemns hospital bombing: "We will hold Putin to account for his terrible crimes"
From CNN's Sharon Braithwaite in London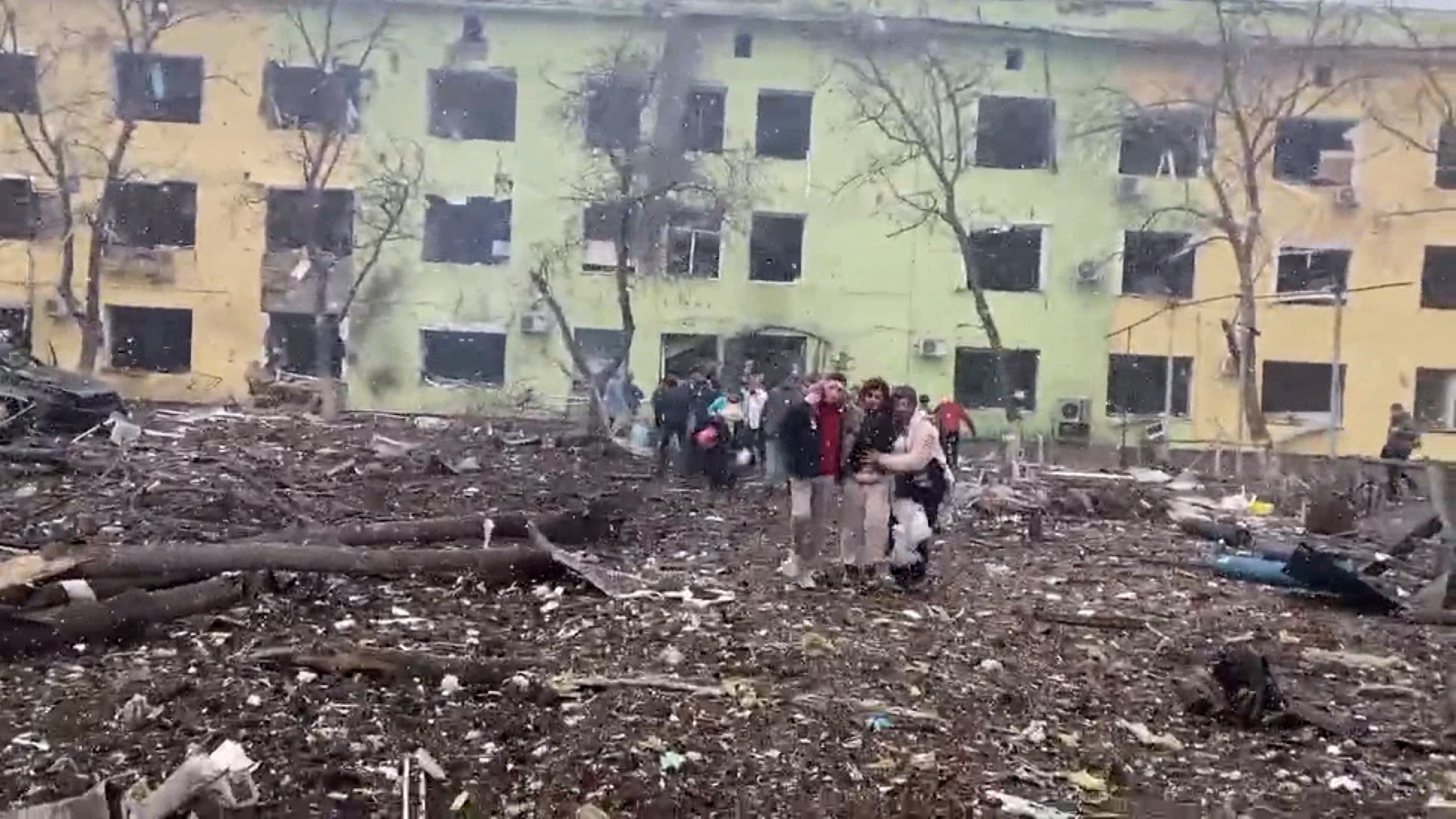 British Prime Minister Boris Johnson on Wednesday condemned the bombing of a children's and maternity hospital in the southern Ukrainian city of Mariupol, saying, "There are few things more depraved than targeting the vulnerable and defenceless."
In a tweet, he said that Britain "is exploring more support for Ukraine to defend against airstrikes and we will hold Putin to account for his terrible crimes," adding the hashtag "#PutinMustFail." 
The city council of Mariupol has posted video of a devastated maternity and children's hospital in the city and accused Russian forces of dropping several bombs on it from the air.  
1 hr 40 min ago
Mariupol authorities accuse Russians of bombing children's and maternity hospital
From CNN's Tim Lister in Kyiv and Olga Voitovych
The city council of the southern Ukrainian city of Mariupol has posted video of a devastated children's and maternity hospital in the city and accused Russian forces of dropping several bombs on it from the air.
"The destruction is enormous. The building of the medical facility where the children were treated recently is completely destroyed. Information on casualties is being clarified," the council said.
"A maternity hospital in the city center, a children's ward and department of internal medicine … all these were destroyed during the Russian air strike on Mariupol. Just now," said Pavlo Kyrylenko, head of the Donetsk regional administration.
Donetsk region police say that according to preliminary information, at least 17 people were injured —mothers and staff — as a result of the Russian attack.
"Information on victims is being clarified," the police said
Ukrainian President Volodymyr Zelensky condemned the air strike on the hospital in Mariupol.
"Direct strike of Russian troops at the maternity hospital. People, children are under the wreckage. Atrocity! How much longer will the world be an accomplice ignoring terror?" Zelensky said on his Telegram account.
The president again directed his anger at NATO for refusing to declare a no-fly zone over Ukraine, saying "Close the sky right now! Stop the killings! You have power but you seem to be losing humanity."
CNN's Paul P. Murphy, Gianluca Mezzofiore, Katie Polglase and Celine Alkhaldi contributed reporting to this post.
Watch more here: