Juan Lopez says he can make pretty much any 2-D image into a fuzzy, fluffy floor covering – except one thing. 
"I can't do stars. That's been my limitation," said Lopez. "One of the first rugs that somebody asked for, it was their logo and it had a bunch of little tiny stars. I couldn't even make it look like a snowflake. It just looked like a furry blob. 
"That's been the biggest hiccup. I'm fearful of stars to this day." 
Luckily, there are plenty of other images for him to convert into a rug – including ones that will never actually touch the floor. 
"I've done a couple of anime. I've done sports type of stuff," Lopez said. "I did a Virgin Mary rug and I was like, 'are you going to put this on the floor?' They're like, 'no, there's no way I'm going to put the Virgin Mary on the floor.' I said 'okay, great.'" 
Lopez began making custom rugs in early 2021. He learned the craft between working overnight shifts for Chicago Public Schools. Since last summer, Lopez says he's been able to create a small business that supports himself and his 6-year-old son Lorenzo by selling commissioned designs through social media and in pop-up markets.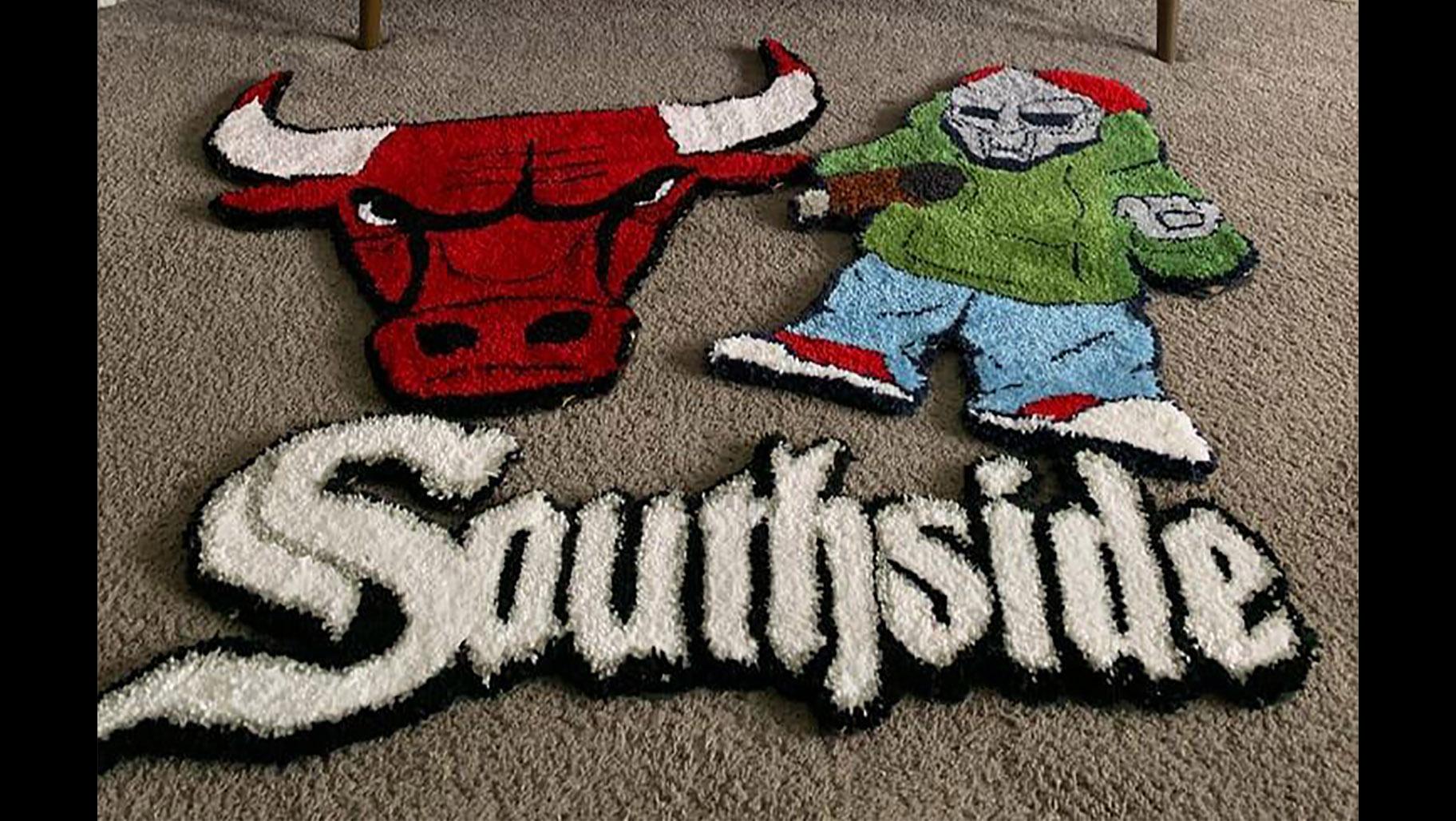 Juan Lopez says he can make pretty much any 2-D image into a fuzzy, fluffy floor covering. (WTTW News)
"I was working an overnight job and also taking my son to school, picking him up from school," recalled Lopez. "The hard part was just him getting older and the fact that when I was working over in that job, I was constantly tired and that kid has so much energy, so being able to be home being able to be on my own time has been a huge blessing." 
Lopez used videos he found on TikTok and some trial and error to teach himself. 
"I just bought the machine and just kind of tried it," he said. "It's almost in a sense like tattooing when you're a tattooist, it's a framework and then you kind of trace the framework. And then it was in the summer when I started doing different commissions. People were asking, hey, can you do this, can you do that?" 
Lopez is quick to say he doesn't consider himself an artist, but he sees his craft as a way to collaborate with artists whose work he enjoys. His earliest pieces were rug versions of local street artists' signature characters. 
"I think those are really cool, like you know [artist] sentrock has a bird. The cool thing is that I can find art that I like and just give it a different medium. I think the difference is the feel of it, you know, being able to actually touch it, run your hands through it. 
And what does Lorenzo think of his dad's magic carpet ride? 
"He thinks it's cool," Lopez said. "I'll show him, he's in his own world sometimes, so he'll just look, oh, that's cool. And then he'll leave."
---