3 hr 18 min ago
US-born figure skater Zhu Yi under attack after fall on Olympic debut for China
From CNN's Nectar Gan in Beijing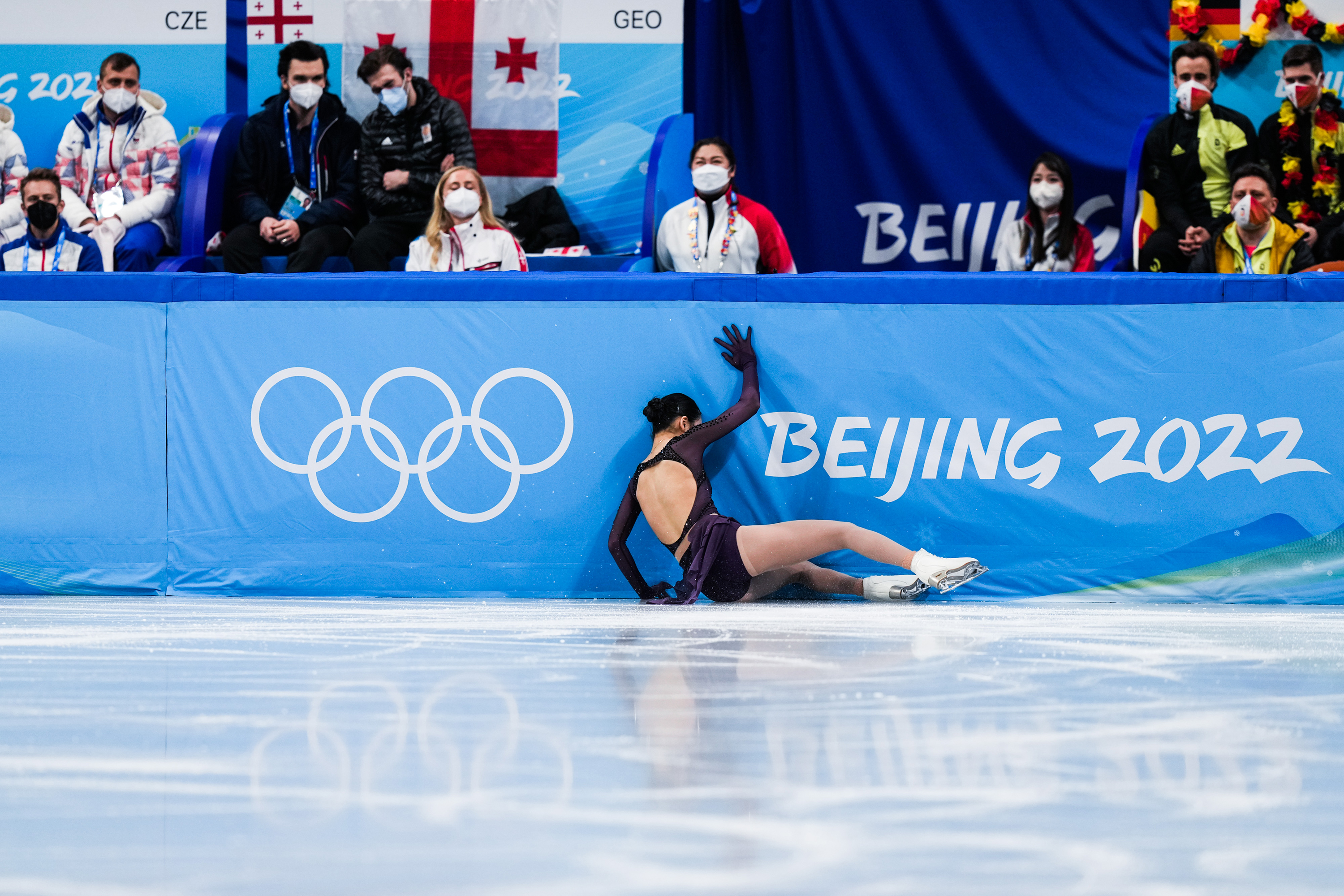 China's California-born figure skater Zhu Yi is facing a firestorm of attack on Chinese social media after she came up short on her Olympic debut Sunday.
The hashtag "Zhu Yi has fallen" is a top trending topic on Weibo, gaining about 200 million views in just a few hours, with some users asking why an American-born skater was picked to represent China ahead of an athlete born in the country.
"This is such a disgrace," said a comment with 11,000 "likes."
Zhu, 19, was the first to compete on the second day of the figure skating team event, gliding into the ice rink to loud cheers from the mostly Chinese crowd at Beijing's Capital Indoor Stadium.
But she fell flat on the ice after a failed jump in the opening combination, and missed another jump later in the program, finishing with the lowest score of the event.
China consequently fell from third place to the fifth in the standings — just enough to progress to the next round of competition.
In contrast to the online vitriol, the crowd in the stadium applauded Zhu as she bowed to the stands.
Pressure to perform: Chinese athletes face huge pressure to get results at the Olympics, with medal counts long touted by the Chinese government as a sign of national strength. In the past, many have faced a backlash for poor performances.
Zhu is among at least a dozen foreign-born athletes recruited by China in recent years in an attempt to bolster its medal count at the Winter Olympics. But the attack against her also highlights the pressure these naturalized athletes face to compete under the Chinese flag. 
Born in Los Angeles in 2002, she decided to compete for China in 2018 and gave up her American citizenship. She also changed her name from Beverly Zu to Zhu Yi.
But she has faced criticism in China for not being able to speak fluent Chinese.
"Please let her learn Chinese first, before she talks about patriotism," a Weibo user said on Sunday.
The attack on Zhu stands in stark contrast to the huge popularity of California-born Eileen Gu, a freeskiing prodigy who is also competing for China.
The 18-year-old has charmed the Chinese public with her fluent Mandarin and familiarity with Chinese culture, having grown up spending summer holidays in Beijing. She has become China's unofficial face of the Winter Olympics, featuring heavily in state media coverage to promote winter sports, as well as advertisements for Chinese brands.
4 hr 21 min ago
Chinese President Xi Jinping meets with Pakistan's PM Imran Khan
From CNN's Beijing bureau and Sophie Jeong
Chinese President Xi Jinping met with Pakistan's Prime Minister Imran Khan on Sunday morning, according to Chinese state broadcaster CCTV.
Khan was among a small group of international dignitaries that attended the opening ceremony of the Games, with Western governments including the United States, Britain and Australia having declared a diplomatic boycott over China's human rights record.
Pakistan's neighbor India announced a last minute diplomatic boycott of the Games on Thursday, after a Chinese commander involved in border clashes between India and China appeared as a torchbearer in the Olympic torch relay.
On Saturday, Khan attended a banquet hosted by Xi and China's First Lady Peng Li Yuan in the honor of foreign dignitaries, according to Pakistan's Prime Minister's Office. 
4 hr 28 min ago
Men's downhill skiing postponed due to high winds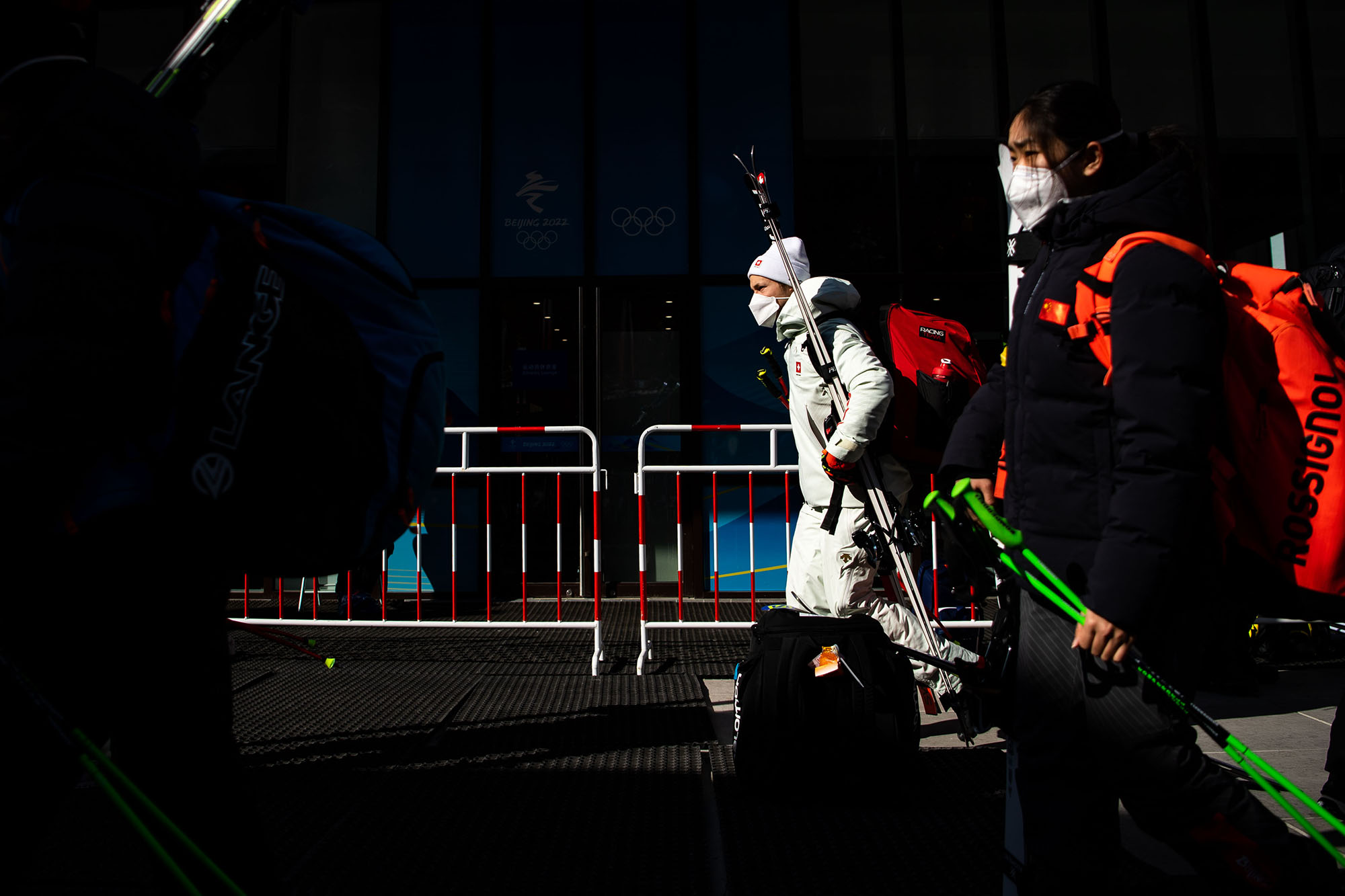 After multiple one-hour delays on Sunday, the men's downhill skiing has been postponed due to high winds.
"The men's downhill has been postponed until another day due to high winds. The new start time is unknown at the moment. Further details will be communicated as soon as they are available," Games organizers said in a statement.
5 hr 35 min ago
IOC chief's plan to meet with Peng Shuai "has not changed," spokesman says
From CNN's Sophie Jeong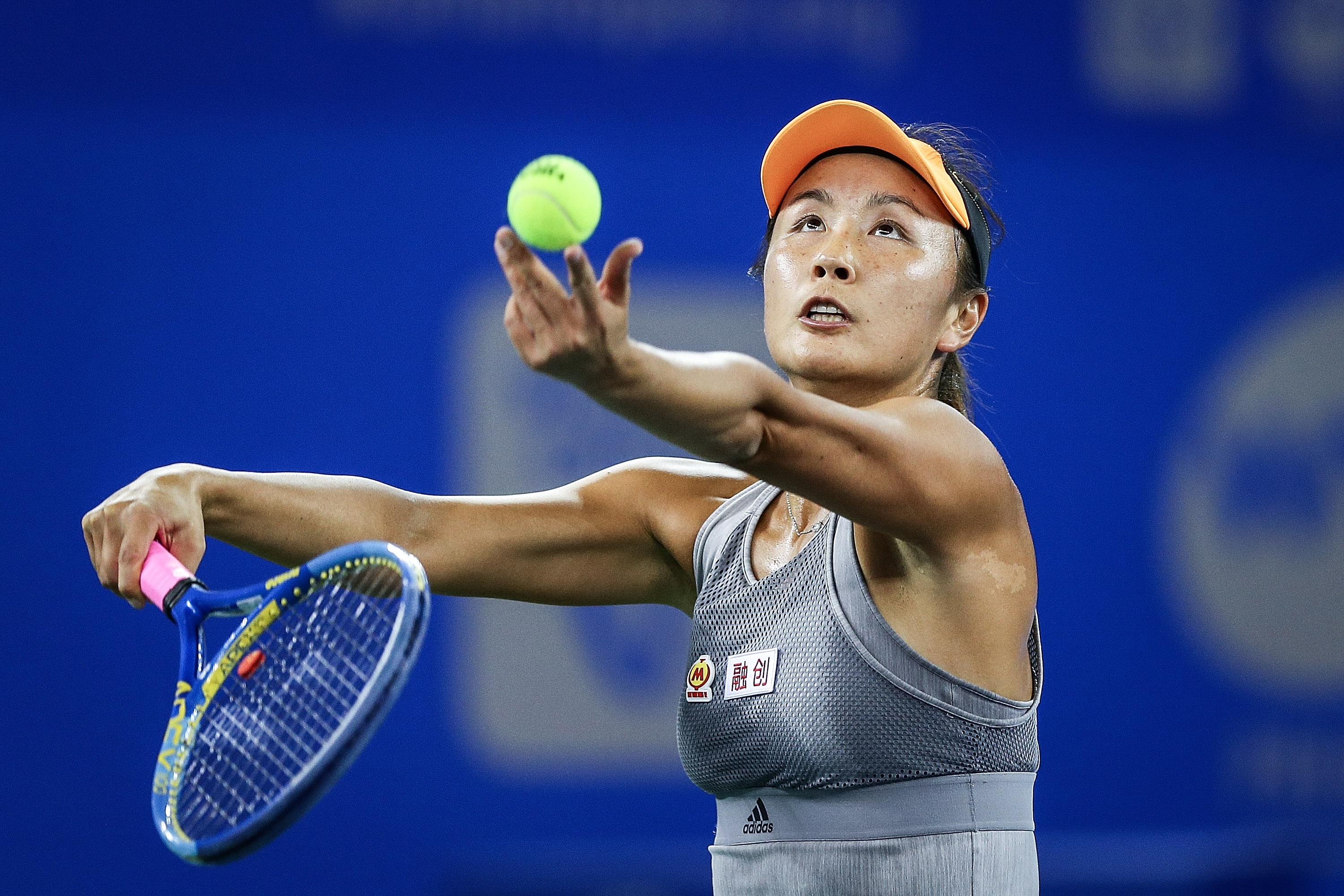 International Olympic Committee president Thomas Bach still plans to meet Chinese tennis star Peng Shuai in Beijing during the Games, an IOC spokesman said Sunday.
"We've always said that there will be a meeting here, and that has not changed," IOC spokesman Mark Adams told reporters at a news conference in Beijing.
"As the president very eloquently said, we would talk with her and it would be up to her to decide what and what wouldn't be said."
Peng, one of China's most recognizable athletes, accused former Chinese Vice Premier Zhang Gaoli of coercing her into sex, according to screenshots of a since-deleted social media post dated Nov. 2.
Concern about her safety and whereabouts grew after her allegations, with the Women's Tennis Association pulling out of China.
More than a month later in December, Peng denied making the allegations in an interview with Singapore-based Chinese-language newspaper Lianhe Zaobao.
"I have never spoken or written about anyone sexually assaulting me," she said, adding she has "always been free" and that she has been living at her home in Beijing. 
6 hr 5 min ago
China is celebrating its first gold of Beijing 2022
From CNN's Nectar Gan in Beijing
Chinese social media is a sea of red on Sunday, flooded by posts celebrating China's first gold medal at the Beijing Winter Games.
The hosts narrowly beat out second-place Italy last night to claim China's first ever short track speed skating mixed relay gold.
On Weibo, China's Twitter-like platform, users erupted in joy, with a related hashtag viewed more than 500 million times.
"You can always believe in China's short track skating team!" a comment says.
The last leg of the relay was delivered by Wu Dajing, who scored China's only gold medal at the 2018 Pyeongchang Games when he also broke men's 500 meters world record.
Fans rushed to congratulate Wu Sunday on his Weibo account, which has more than 9 million followers.
"You're truly awesome!" a top comment says.
5 hr 33 min ago
Beijing reports 10 new Olympics-related Covid-19 cases
From CNN's Wayne Chang
The Beijing Olympic Committee on Sunday reported 10 new Games-related Covid-19 cases, the organizers said in a statement. 
Of the new cases, four were detected among new airport arrivals and six were found inside the "closed loop system" — a bubble cut off from the rest of the Chinese capital and its wider population.
Six of the 10 cases involve athletes or team officials, the statement said.
Beijing is taking stringent coronavirus measures at the Games, in line with China's zero-Covid policy.
Inside the bubble, anyone who tests positive is immediately removed from the Games. Those who are symptomatic are sent to a designated hospital for treatment, while asymptomatic cases are taken to an isolation facility. They aren't allowed to return to the bubble until all symptoms disappear and they test negative twice in a row.
"Smooth progress": Officials are hopeful the Games will continue to see a downward trend of new Covid-19 cases.
"With less number of arrivals, there will be less positive cases," Beijing 2022 health official Huang Chun said at a news conference Sunday, adding officials "do not see any cluster spreading."
"It has not affected the smooth progress of the competition," Huang said.
As of Sunday, a total of 814,376 Covid-19 tests have been administered inside the "closed loop" system since Jan. 23, and 12,555 people have arrived in Beijing, according to Games organizers.
7 hr 25 min ago
Zoi Sadowski-Synnott wins first ever Winter Olympics gold for New Zealand
New Zealand snowboarder Zoi Sadowski-Synnott made history on Sunday by claiming the country's first ever Winter Olympics gold medal in the women's slopestyle with an impressive final run that saw her finish with 92.88 points.
"HISTORY MADE" wrote the New Zealand Olympic and Commonwealth Games Teams on Twitter. "Could not be more proud right now."
Julia Marino of the United States came second in the event, winning Team USA's first medal of Beijing 2022 with a score of 87.68. She was followed by Australia's Tess Coady, who took bronze with 84.15.
Marino and Coady embraced Synott after her landing.
Team USA's Jamie Anderson — a favorite to win — missed out on her third Olympic gold after she sat down on a landing and finished ninth.
8 hr 26 min ago
It's 10:30 a.m. in Beijing. Here's what's happening at the Winter Olympics today
Welcome to Day 2 of the Beijing 2022 Winter Olympics, where gold medals are up for grabs in seven events on Sunday:
Men's downhill Alpine skiing
Men's cross-country skiing
Women's freestyle skiing
Men's luge
Men's ski jumping
Men's snowboarding
Men's speed skating
Athletes to watch:
All eyes will be on Norwegian Aleksander Aamodt Kilde, the favorite to win the men's downhill Alpine skiing. He laid down a marker Friday by setting the fastest time in the wind-affected second training run.
The women's moguls in freestyle skiing is likely to see a duel for gold between Perrine Laffont of France and Australia's Jakara Anthony.   
Germany's Felix Loch is aiming to reclaim the Olympic title in men's single's luge, having finished fifth at Pyeongchang in 2018. He's up against defending champion David Gleirscher from Austria.
In women's snowboarding slopestyle, Jamie Anderson will be looking to add to the 31 medals under Team USA's belt — making it the most successful nation ever in the Olympic event, ahead of Switzerland.
10 hr 40 min ago
UN Secretary-General António Guterres meets with Chinese leaders at Olympic Games
From CNN's Richard Roth
UN Secretary-General António Guterres met with top leaders of the Chinese government amid the 2022 Winter Olympic Games, a UN spokesperson said in a statement Saturday.
Guterres spoke with Chinese President Xi Jinping and State Councilor and Foreign Minister Wang Yi.
Guterres congratulated them on the organization of the Games and voiced his appreciation for China's cooperation with the United Nations.
They discussed vaccine inequalities and the need for a global vaccination plan, the UN said.
Guterres also encouraged a "credible" visit from the High Commissioner for Human Rights to China, including Xinjiang, where China has been accused of detaining Uyghurs and other Muslim minority groups.
The group also discussed climate change, global development, and regional issues, such as Afghanistan.