1 min ago
Some of the best snaps from Day 11 of the 2022 Beijing Winter Olympic Games
From CNN's Will Lanzoni
1 hr 41 min ago
Kiss Cam spotted on the slopes
From CNN Sport staff
Sofia Goggia may have stayed on her feet to execute an impressive run in the women's downhill event on Tuesday, but she appears to have fallen for the camera.
Less than 24 hours after Valentine's Day, the Italian claimed a memorable silver medal and had plenty of love to share for the viewers back at home.
It's incredible that Goggia even made it to Beijing 2022 after injuring her left knee in a skiing accident last month.
"I'm glad I gave everything to be here today," she said after her win.
"I'm glad and grateful that I could achieve another medal, and I'm happy with myself."
1 hr 39 min ago
Francesco Friedrich adds another gold as Germany sweeps two-man bobsled podium
From CNN's Jack Bantock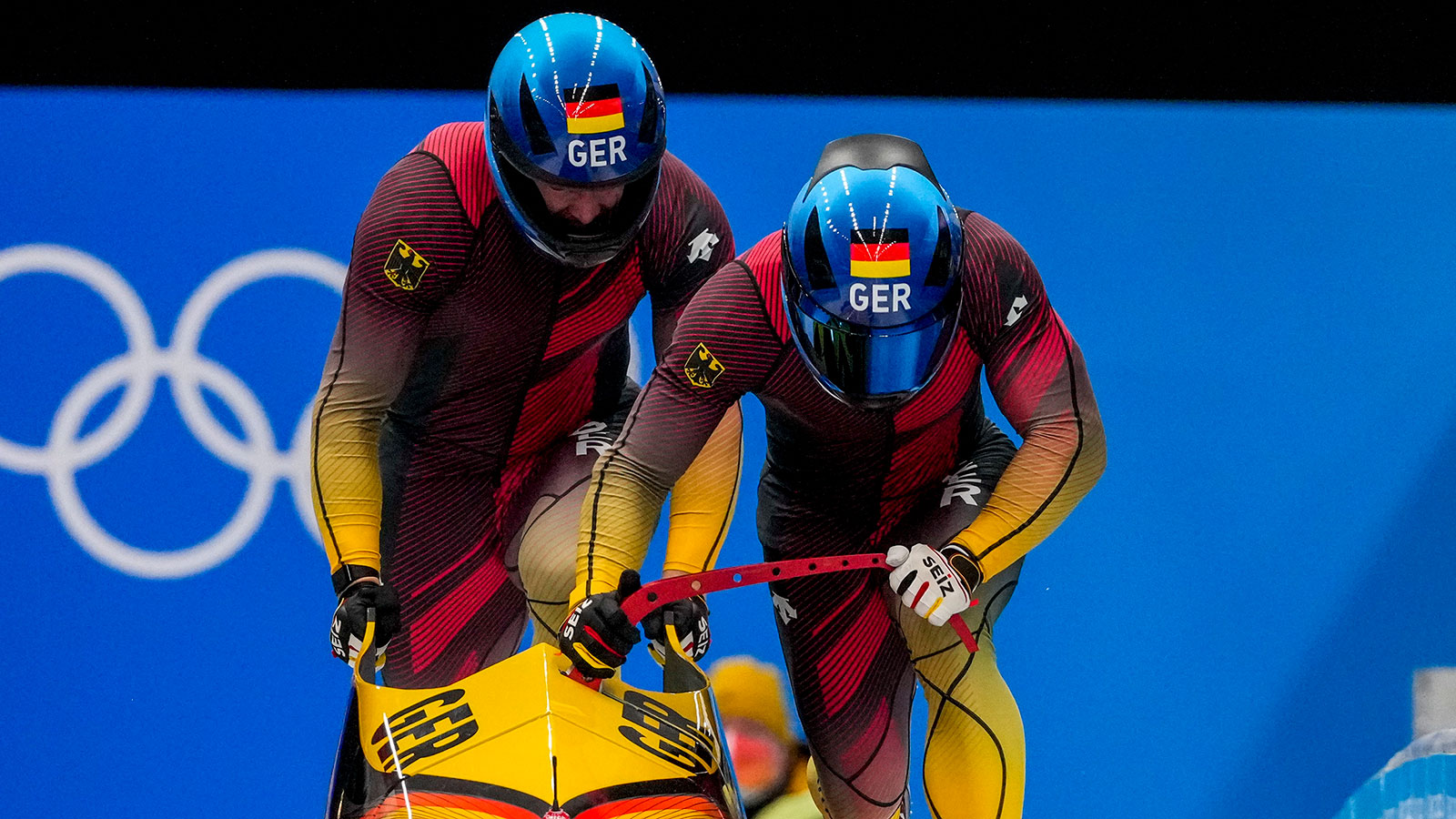 With just three pilots to go, Switzerland's Michael Vogt sat in gold medal position for the two-man bobsled event.
Mere minutes later, he found himself finishing outside the podium places.
Francesco Friedrich and brakeman Thorsten Margis capped a historic day for Germany at the Yanqing National Sliding Centre, taking gold on the final run of the evening to secure a famous one-two-three finish for their country.
It is the first time in Winter Olympic history that a nation has swept the podium in a bobsled event.
Friedrich's time of 3:56.89 put him ahead of compatriots Johannes Lochner and Christoph Hafer in silver and bronze respectively.
After the most unusual of pre-Games preparations, Friedrich reflected on a "crazy two weeks" heading into Beijing.
"We have to wait and wait and wear every day the mask in every situation; eating fast, then the mask on," he said.
"Then the competition start and we feel good, we know that we are good in pushing … I did it really good the first run, then in the second run, I make some mistakes which lose us time.
"In the third run, we say we have to fight, we have to attack Hansi [Johannes Lochner] … we go, and it worked, we did it."
Having won two golds in Pyeongchang four years ago, Friedrich's triumph in Beijing pens another chapter in a glittering career of dominance — with the potential to complete a never-before-seen double defense in the four-man event which begins on Saturday.
The 31-year-old Friedrich is a 13-time world champion across two-man, four-man and team events, cementing his place as the most decorated pilot in bobsledding world championship history and one of the greatest of all time.
The key to his success? Love what you do.
"I have the luck that what I do is my job," Friedrich said. "I love that and it makes (it) so much fun, and it's my daily job. I give all for that.
"It's only a small time in our life, and we must use it 110% or you should do another thing."
2 hr 20 min ago
CNN's Beijing 2022 event guide: Cross-country skiing
From CNN's Sana Noor Haq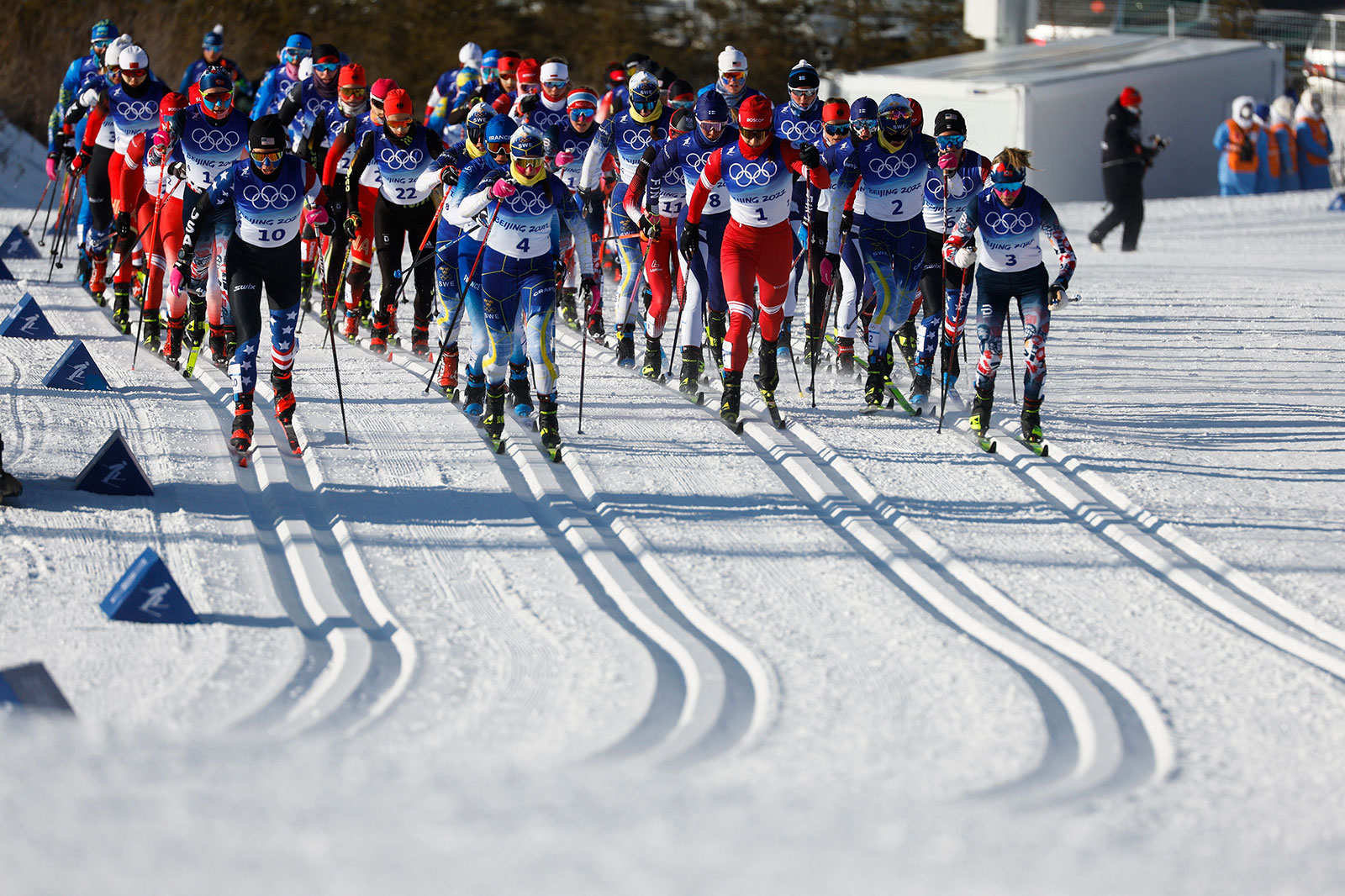 Cross-country skiing is the oldest type of skiing and evolved as a form of travel between remote communities. 
Cross-country skiers either use the freestyle technique, where they ski side-to-side, or the classic technique, which involves striding forward. The techniques used in each event vary during each edition of the Games, depending on the guidelines set by the FIS.
Cross-country skiing was one of the first ever Winter Olympic sports, debuting at the 1924 Chamonix Games in France with men's events. Nearly 30 years later, women's events were inaugurated at the 1952 Oslo Olympics in Norway. 
There will be 36 medals for the taking across 12 events at this year's Winter Olympics.
On the men's side, there will be the 15km classic, 15km + 15km skiathlon, sprint free, team sprint classic, 4x10km relay and the 50km mass start free. Female competitors will participate in the 10km classic, 7.5km + 7.5km skiathlon, sprint free, team sprint classic, 4x5km relay and the 30km mass start free.
Cross-country skiing events run until the end of the Beijing Games on February 20 with the women's 30km mass start free.
2 hr 40 min ago
Kamila Valieva finishes the short program in first place ahead of Thursday's free skate medal event
From CNN's Matias Grez
With all the skaters completing their routines, we now have confirmation that Kamila Valieva has finished the short program routine in first place.
She will now be the strong favorite to claim the gold medal ahead of Thursday's free skate event.
Valieva's final score of 82.16 is comfortably ahead of her Russian Olympic Committee teammate Anna Shcherbakova's 80.20 points in second place.
Japan's Kaori Sakamoto is in third place with a score of 79.84 ahead of Thursday.
2 hr 15 min ago
Kamila Valieva tears up after impressive short program routine, making it to Thursday's free skate event
From CNN's Matias Grez, Selina Wang and Sandi Sidhu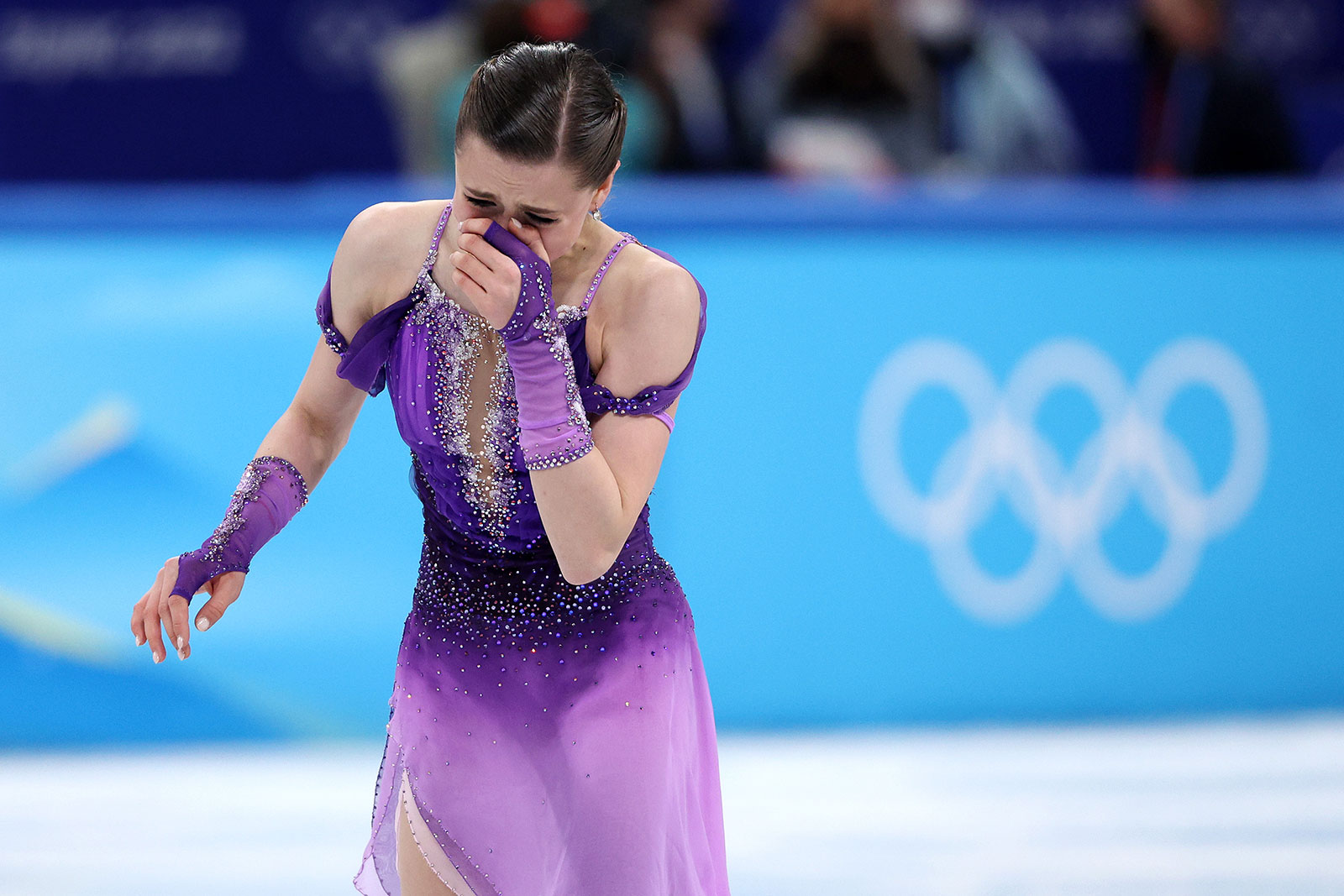 There were tears from Kamila Valieva as she completes an impressive routine, posting a score of 82.16.
There was a slight stumble on her opening jump, a triple Axel, but she held it together well until the end to post the top score of the women's short program.
The crowd were audibly getting behind Valieva, perhaps more so than any other skater.
"Loudest applause for anyone for her when she finished," according to CNN staff inside the arena. "She looks incredibly emotional."
Valieva's score means that she makes it through to the free skate program on Thursday, where she will be one of the favorites for the gold.
The 15-year-old was cleared by the Court of Arbitration for Sport to compete at the Beijing 2022 Winter Olympics after being at the center of a doping scandal.
After finishing her routine, she "walked past all of the journalists, including Russian ones, and left the mixed zone. She looked very solemn and didn't speak to anyone or look at anyone," CNN staff in the arena reported.
3 hr 22 min ago
Kamila Valieva steps out onto the ice
From CNN's Matias Grez
All eyes are on Kamila Valieva as she steps on the ice this afternoon for the women single skating short program event, but so far she doesn't seem to be perturbed at all.
"Huge applause for Kamila when they announced her name," according to CNN Sport staff inside the arena. "She looks smooth and [had] perfection execution in her warm up."
"Russia is clapping for her even before she starts. Huge applause around the stadium. HUGE," CNN's Selina Wang reports.
3 hr 33 min ago
The ROC's Kamila Valieva carries weight of doping scandal onto ice
From CNN's Simone McCarthy and Jack Bantock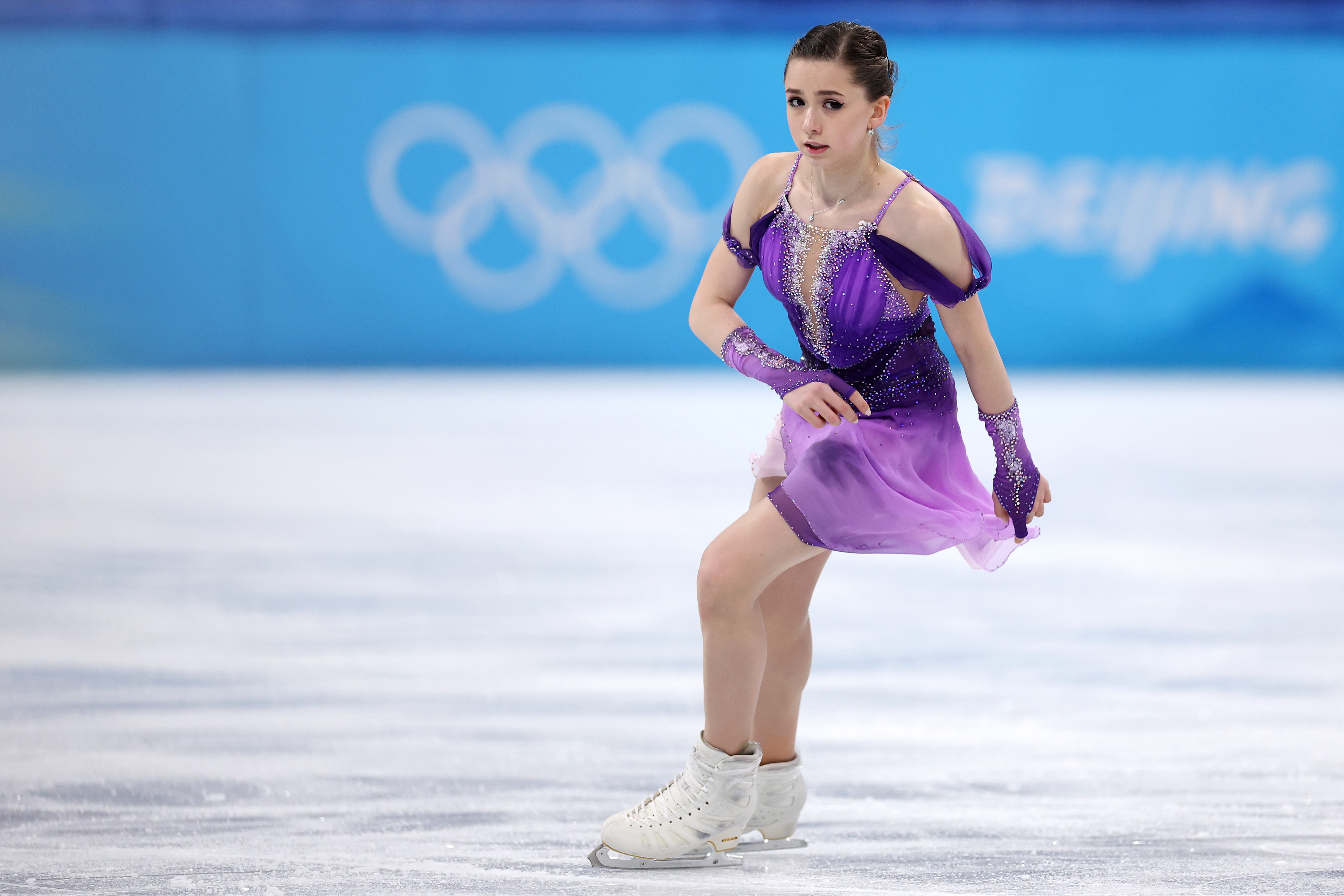 The women's singles skating short program is underway at Beijing's Capital Indoor Stadium, and all eyes are on the Russian Olympic Committee's (ROC) Kamila Valieva, who is now warming up on the rink.
Aged just 15, the Russian figure skating star finds herself at the center of a doping scandal that has inflamed mistrust of the Russian athletic establishment, pressed sporting organizations and athletes around the world to call for reform, and seen the International Olympic Committee (IOC) postpone medal ceremonies for any event that could place Valieva on the podium.
Officials are still investigating whether Valieva or her entourage broke anti-doping rules, after a test she took in December was found to be positive for a banned substance.
On Tuesday, an IOC official said Valieva is blaming the doping violation — in which she tested positive for a heart medication that experts say can improve stamina — on contamination from her grandfather's medication. Her coach, Eteri Tutberidze, told Russian state news agency Tass they are "absolutely sure" she is innocent.
On Monday, the Court of Arbitration for Sport cleared Valieva for participation in the women's singles competition — the question will now be if the 15-year-old can tune out the noise.
Ordered 26th on the scheduling, Valieva is expected to be out on the ice around 8:52 a.m. ET or 9:52 p.m. local time and will perform to "In Memoriam" by Russian composer Kirill Richter.
Read the full story here.
3 hr 35 min ago
Team USA's Alysa Liu celebrates a successful performance on the ice
From CNN Sport staff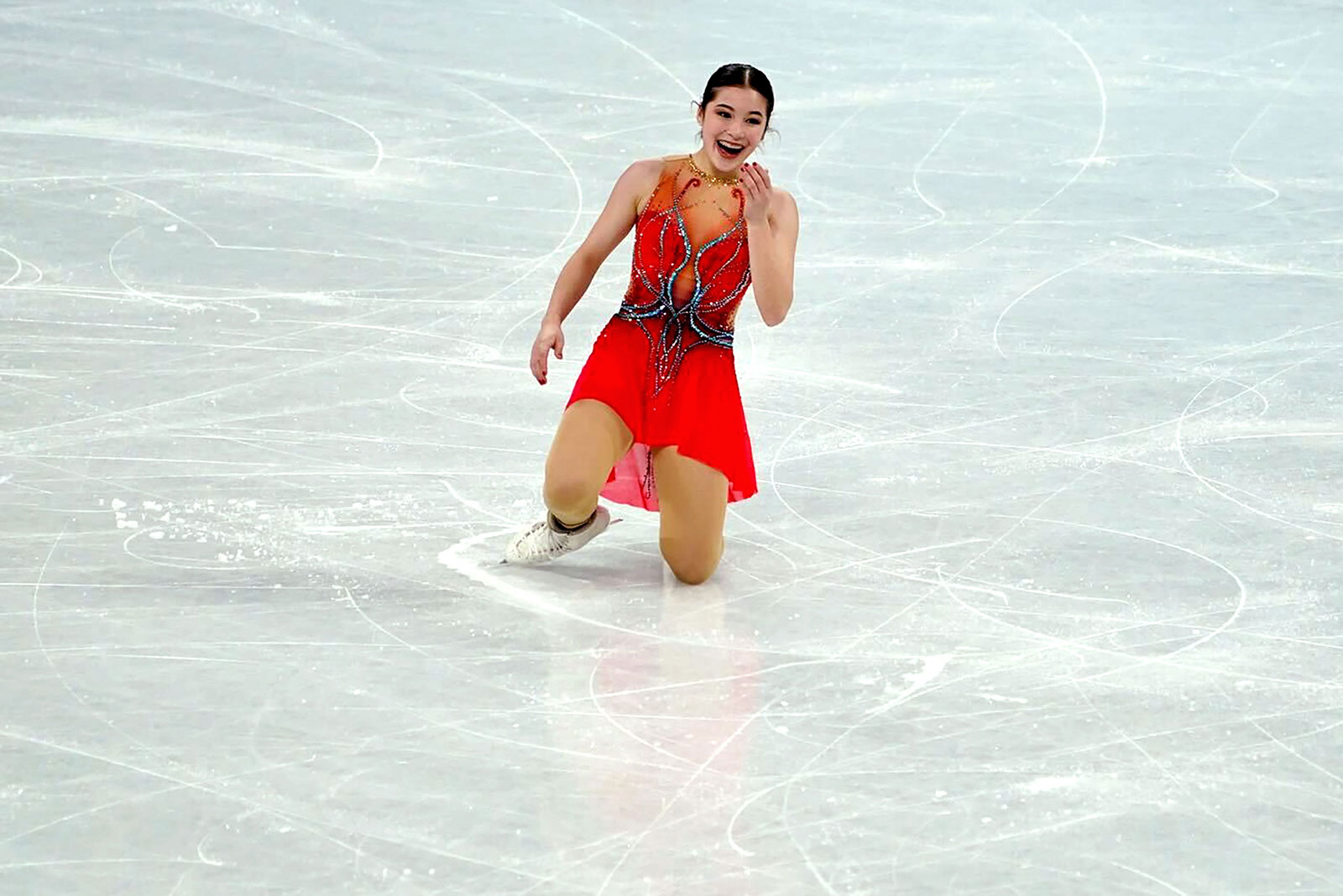 Team USA's Alysa Liu was all smiles after her performance on the rink at the women single skating short program event. She scored 69.50 points.