9 hr 50 min ago
$350 million in US military assistance will include "anti-armor and anti-aircraft systems," official says
From CNN's Arlette Saenz 
A official from US President Joe Biden's administration says the newly authorized military assistance of up to $350 million from US Department of Defense supplies will include "anti-armor and anti-aircraft systems, small arms and various caliber munitions, body armor, and related equipment in support of Ukraine's front-line defenders facing down Russia's unprovoked attack."
"The United States and its Allies and partners are standing together to expedite security assistance to Ukraine," the official said. "We are employing all available security cooperation tools in support of the Ukrainian people in their hour of need as they defend themselves against Russian aggression."
More background: As CNN has reported, President Biden instructed Secretary of State Antony Blinken to release up to $350 million in immediate support to Ukraine's defense, according to a memo released by the White House Friday. 
This is the third drawdown of money. Previous drawdowns have been for $60 million and $250 million, putting the total over the last year at more than a billion dollars, according to an administration official. 
9 hr 57 min ago
US lobbyists rush to cut ties with lucrative Russian contracts
From CNN's Casey Tolan, Curt Devine and Daniel A. Medina
In the years leading up to Russia's attack on Ukraine, US lobbyists have raked in millions of dollars from Russian banks and financial firms paying to push their interests in Washington.
Now, in the wake of the Russian invasion and new sanctions announced by President Joe Biden, many of those lobbying firms are rushing to cut ties and drop their lucrative contracts.
At least six lobbying firms that previously represented now-sanctioned Russian banks and companies tied to a Russian natural gas pipeline terminated their contracts or representation this week, according to statements and federal lobbying disclosures.
The exodus marks the rupture of a Moscow-to-K-Street conduit that has long employed former federal officials and members of Congress of both parties, experts said.
"For anybody that's representing a Russian entity in Washington, DC, it's an uphill climb … that has just gotten a lot steeper," said Benjamin Freeman, a research fellow at the Quincy Institute for Responsible Statecraft, a foreign policy think tank, who has written a book on foreign influence. "It's going to be hard to find a sympathetic ear for any of these Russian clients on the Hill right now."
Some of the banks Biden targeted with sanctions, including VTB, Russia's second-largest, were put under "full blocking" sanctions, which freeze organizations' US assets and prohibit them from doing business in the country. That means it would be illegal for lobbyists to work for them unless they receive a license from the Treasury Department, according to legal experts.
Dropping contracts with fully blocked banks "is not a gesture in solidarity with Ukraine, this is a requirement under US law," said Erich Ferrari, an attorney who specializes in US economic sanctions. Lobbyists could face prosecution for running afoul of sanctions laws, he said.
But even for lobbyists representing firms that aren't fully blocked, it would be a "real reputational risk for these firms to keep representing these sanctioned entities," said Freeman, who called ties to Russia a "scarlet letter" in DC.
Read the full story here.
9 hr 55 min ago
Landmarks around the world glow blue and yellow in support of Ukraine
As Russia's assault on Ukraine continues, a number of the world's most iconic landmarks were lit up in blue and yellow — the colors of the Ukrainian flag — to show support for the country.
Here's a look at some of them:
The Empire State Building in New York City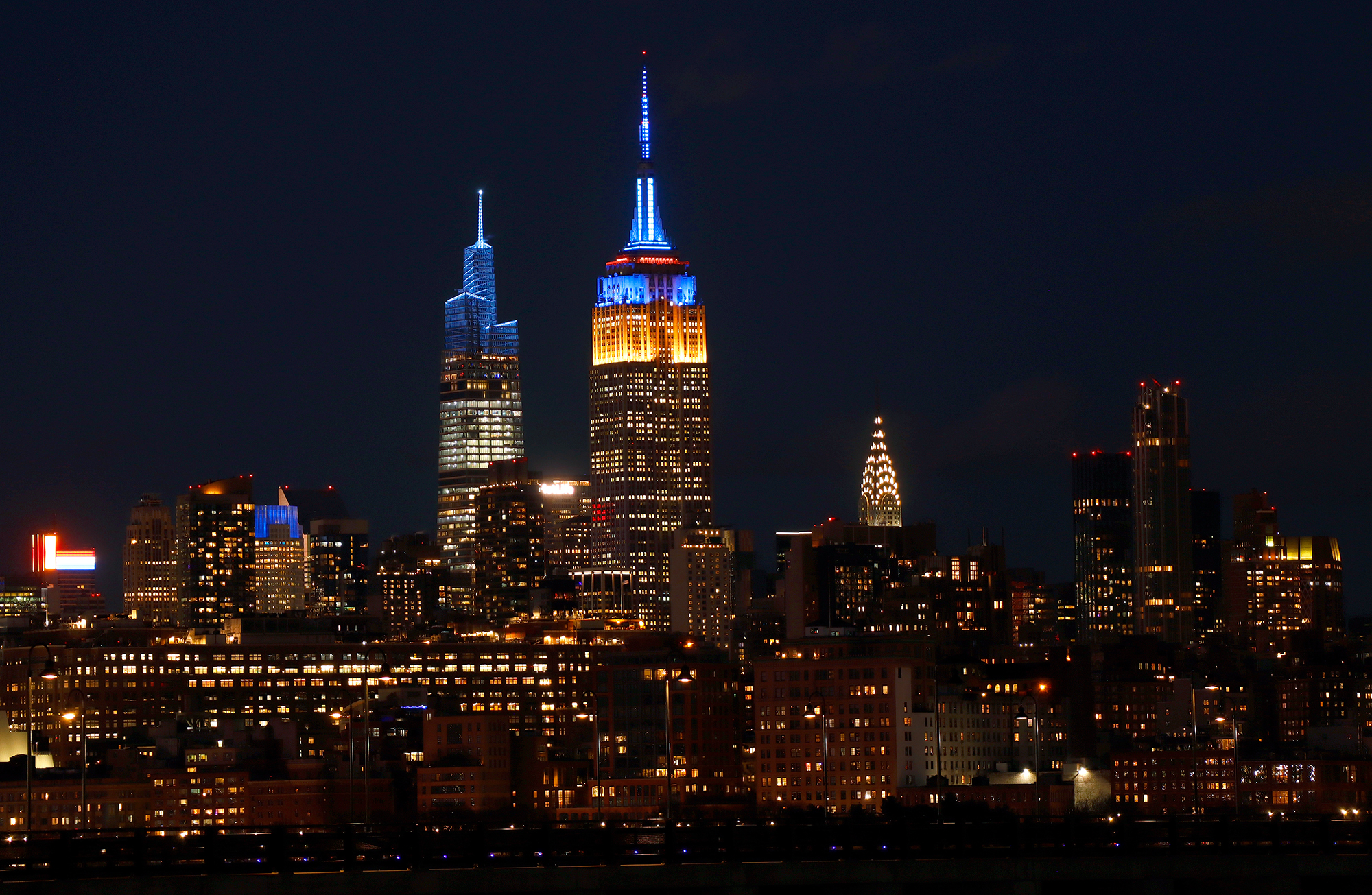 The London Eye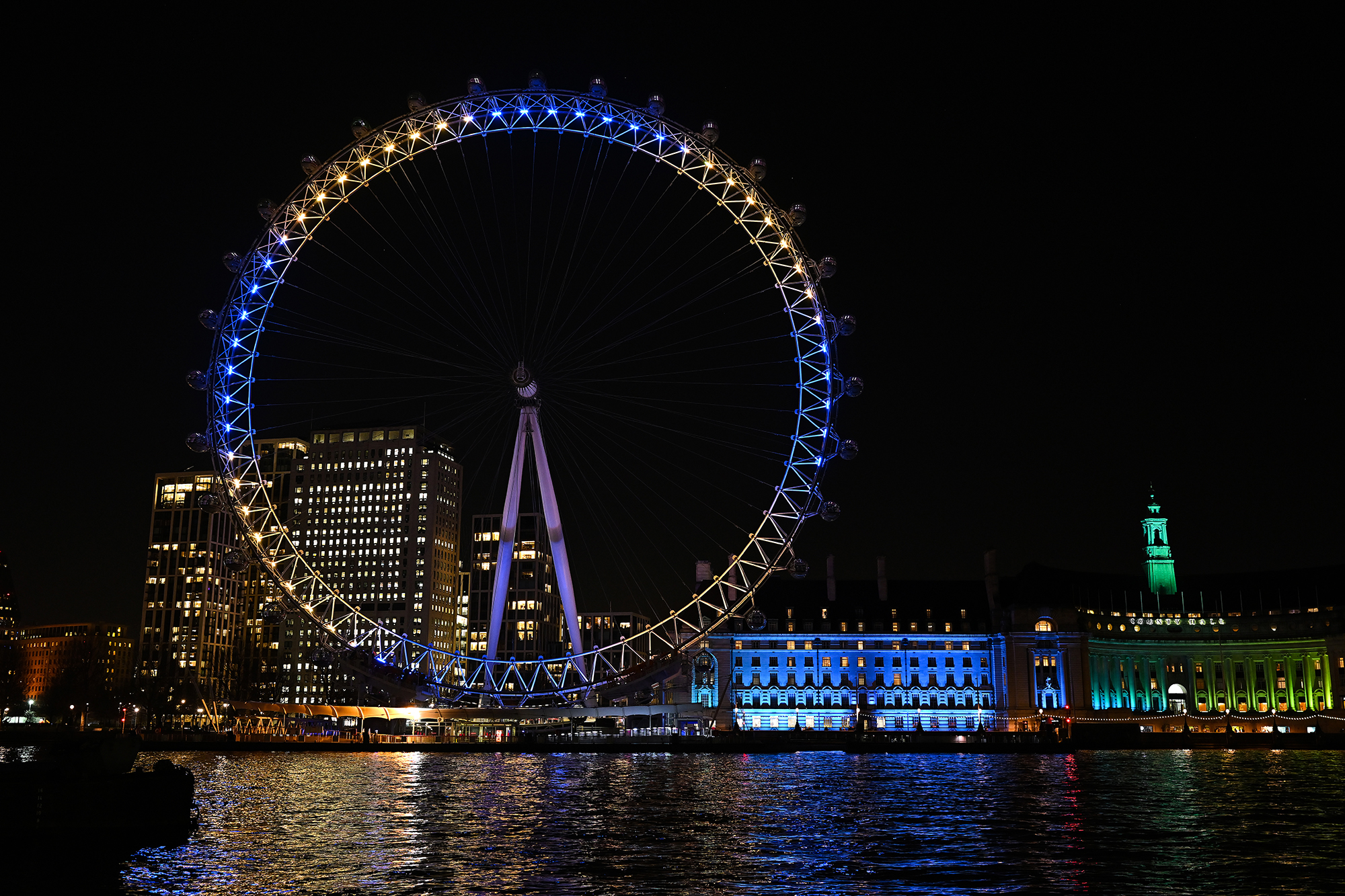 The Brandenburg Gate in Berlin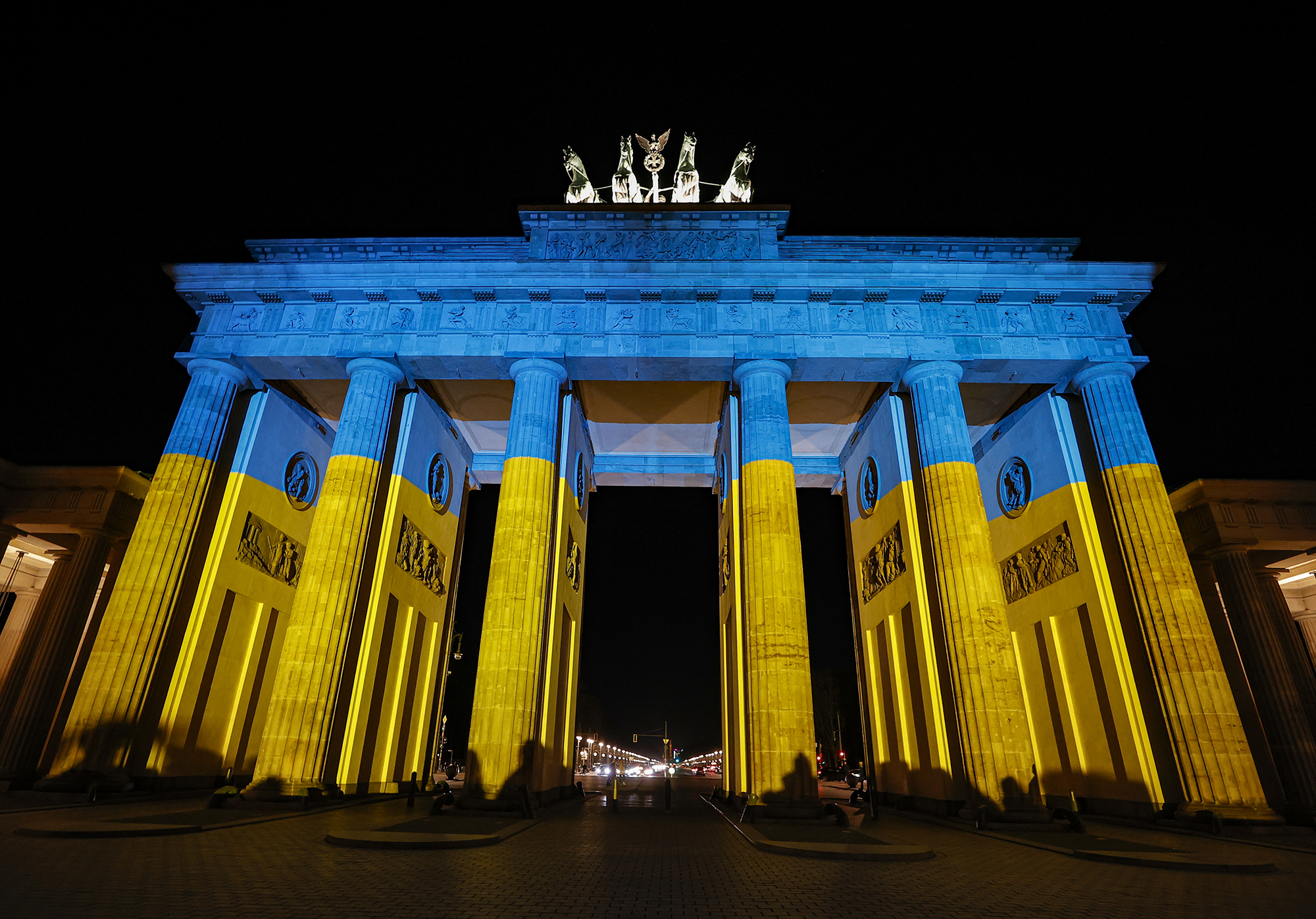 The Eiffel Tower in Paris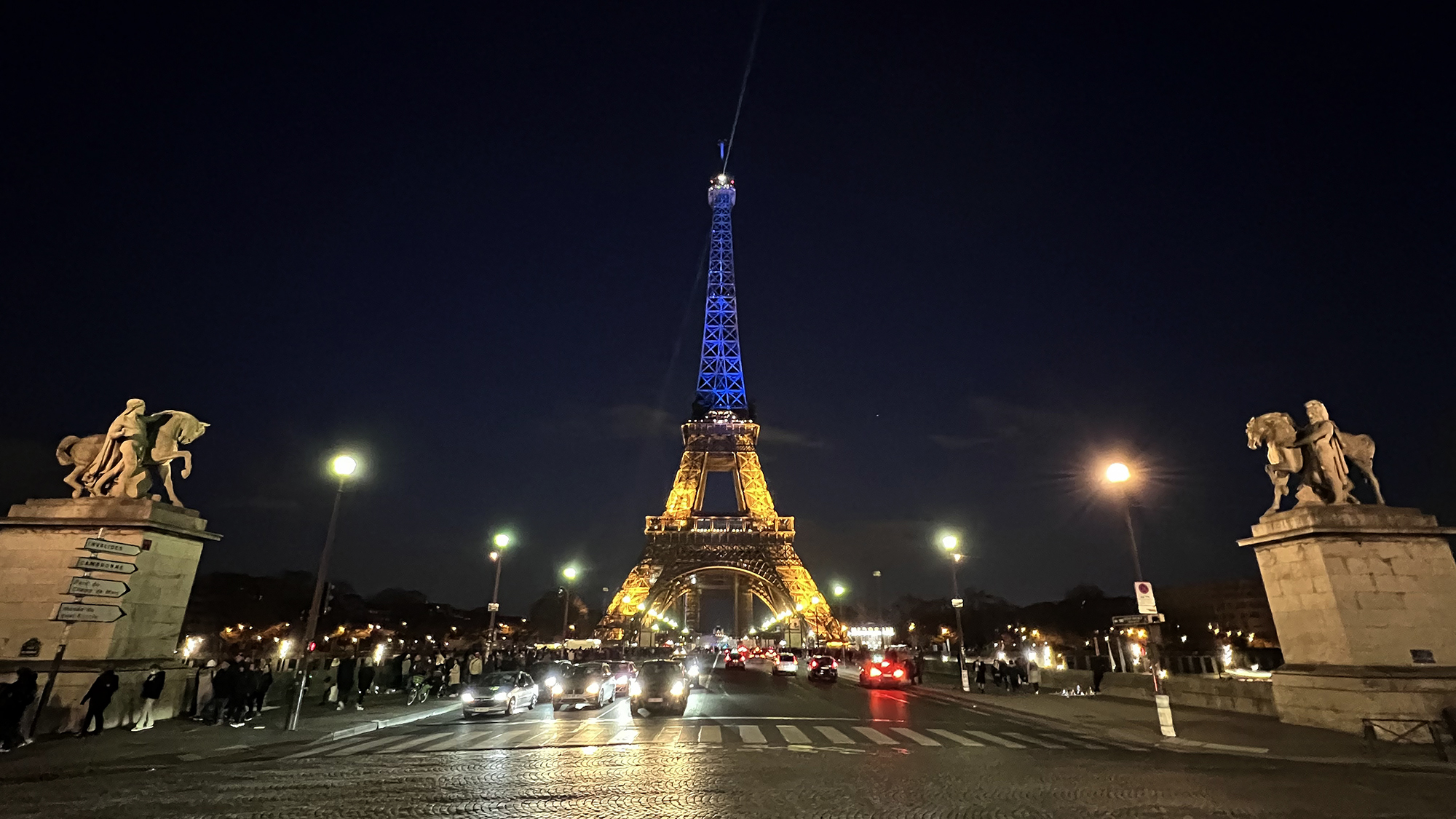 10 hr 31 min ago
Kremlin says Putin ordered halt to Russian attack due to talk of negotiations, but operations have resumed
From CNN's Nathan Hodge in Moscow
Russian President Vladimir Putin ordered a halt Friday to the Russian military's advance in Ukraine pending negotiations, but operations resumed after the government in Kyiv allegedly refused talks, Kremlin spokesperson Dmitry Peskov said Saturday.
A Ukrainian presidential adviser denied in the early hours of Saturday that Ukraine had refused to negotiate.
"Yesterday, in the light of pending talks with the Ukrainian leadership, the commander-in-chief, the president of Russia, ordered a suspension of the advance of the main group of Russian armed forces in Ukraine," Peskov said in a conference call with reporters.
He continued:
"But in essence, as the Ukrainian side refused negotiations, the Russian military operation resumed today in accordance with the plan."
10 hr 30 min ago
UAE foreign ministry calls for de-escalation in first official statement on Ukraine
From CNN's Mostafa Salem in Abu Dhabi
The United Arab Emirates Ministry of Foreign Affairs has called for an "immediate de-escalation and the cessation of hostilities" in Ukraine, according to a statement on Saturday. 
This is the first official statement by the Gulf nation and close US ally, and it comes hours after the UAE, along with China and India, chose to abstain on a vote on a draft United Nations Security Council resolution condemning Russia's invasion of Ukraine. 
In a statement published by the UAE's Permanent Mission at the UN and titled "UAE explanation of vote at the UN Security Council," the Emirati permanent representative Amb. Lana Nusseibeh said that the UAE supports the de-escalation of violence, the resumption of dialogue and the sending of humanitarian aid. 
The foreign ministry did not mention Russia in the statement, instead calling on all parties to respect international humanitarian law, and focused on emphasizing the need to protect civilians and provide humanitarian assistance. 
"Being from the Middle East, we are intimately aware of the critical importance of a stable regional security environment, and of de-escalation, diplomacy, and dialogue. Similarly, we understand from experience the need for inclusive and consultative processes," Nusseibeh told the Security Council on Friday, according to the Foreign Ministry statement. 
The UAE's Foreign Minister Sheikh Abdullah bin Zayed will be meeting Russia's Foreign Minister Sergey Lavrov in a visit to Moscow on Monday, Russian foreign ministry spokesperson Maria Zakharova said, according to a tweet by the Russian MFA.
The Emirati top diplomat also received a call from US Secretary of State Antony Blinken prior to the Security Council vote, where Blinken spoke about the "importance of building a strong international response to support Ukrainian sovereignty through the UN Security Council." The Emirati readout of the call was issued after the vote and did not include Blinken's statement.
10 hr 37 min ago
Italy backs SWIFT sanctions against Russia as part of EU measures
From Hada Messia in Rome and Sharon Braithwaite and Lindsay Isaac in London
Italy has signaled that it would support taking measures to expel Russia from the SWIFT global payment system as part of further European Union sanctions against Moscow for invading Ukraine, Prime Minister Mario Draghi's press office said on Saturday.
During a phone call with Ukrainian President Volodymyr Zelensky, Draghi said that "Italy fully supports the European Union's line on sanctions against Russia, including those regarding SWIFT, and shall continue to do so," the prime minister's press office said.
Draghi expressed to Zelensky Italy's solidarity and support for him and the Ukrainian population "in the face of the attack by the Russian Federation."
The Ukrainian president hailed the declaration, tweeting: "This is the beginning of a new page in the history of our states Ukraine and Italy. #MarioDraghi in a phone conversation supported Russia's disconnection from SWIFT, the provision of defense assistance. Ukraine must become part of the #EU."
Draghi also said Italy will provide Ukraine with assistance to defend itself, according to his office, and the two leaders agreed to remain in close contact in the immediate future.
More background: The bloc has been divided over the issue of banning Russia from SWIFT as part of the two packages of sanctions it has agreed since the invasion of Ukraine began. However, the opposition has been dropping off with France also saying it would "support" the idea of SWIFT restrictions, according to the Élysée, following a phone call between French President Emmanuel Macron and Zelensky. On Friday, French Finance Minister Bruno Le Maire said that France is not among the countries that has reservations regarding SWIFT sanctions.
10 hr 46 min ago
Hungary will not block sanctions against Russia, including on SWIFT, foreign minister says
From CNN's Chris Liakos and Sharon Braithwaite
Hungary will not block any sanctions against Russia, including on the global SWIFT payment system, Foreign Minister Péter Szijjártó said Saturday in a statement.
Szijjártó responded to recent claims that Hungary would oppose sanctions against the Kremlin over the invasion of Ukraine. 
"I am saddened and shocked to see that some representatives of international politics and the international press dare to fabricate fake news and lies," Szijjártó said in the statement, confirming that Hungary "has never blocked any sanctions proposal."
The European Union announced new sanctions against Russia on Friday.
The bloc has adopted the "strongest" package of sanctions ever against Russia, following the invasion of Ukraine, EU Commission deputy chief spokeswoman Dana Spinant tweeted Saturday.
10 hr 44 min ago
Debunking fake videos of the war in Ukraine
From CNN's Tara Subramaniam
The way the conflict in Ukraine has unfolded across social media has made it hard for many people to figure out what's real and what's not. Cell phone videos from locals have circulated on Twitter, Facebook and TikTok, but some of the videos alleging to depict the situation on the ground in Ukraine have turned out to be fake.
Many showcase old footage from elsewhere instead, while some even used scenes from video games.
To combat misinformation around Ukraine, Facebook set up a "Special Operations Center" Thursday afternoon to respond to war-related activity and "remove content that violates our Community Standards faster," while Twitter shared tips for using its platform in conflict zones.
Texas A&M University professor Jennifer Mercieca, whose research focuses on propaganda and political rhetoric, said it's not a surprise that a conflict involving Russia includes what she calls "information warfare."
While information warfare is not new, according to Mercieca, the extent to which misinformation currently is being spread is a consequence of the sheer volume of information about the situation in Ukraine available across different forms of media.
View more from CNN's fact-check here.
10 hr 52 min ago
100,000 Ukrainian refugees have arrived since start of Russian invasion, says Polish Border Guard
From CNN's Antonia Mortensen
Around 100,000 people have entered Poland from Ukraine since the start of Russia's invasion of the country on Thursday, a Polish border guard said Saturday.
"Yesterday was a record day, Border Guard officers cleared over 47,000 people in the direction to Poland. We will help everyone, we will not leave anyone without help. Once again, all Polish services are working together," a tweet attributed to the guard's Commander-in-Chief read.
The United Nations Deputy High Commissioner for Refugees, Kelly Clements, told CNN Saturday that more than 120,000 people had left Ukraine while 850,000 were internally displaced. She added up to 4 million Ukrainians could leave if the situation worsened.
The Head of the Prime Minister's Office, Michał Dworczyk, said a train had been converted to aid people fleeing the war, and tweeted a photo of himself at the station.
The train will run from the station in Przemysl, Poland to the western Ukrainian city of Lviv.
"We are next to the train which will perform 2 functions. 5 wagons were converted for sanitary transport and possible injured. 4 wagons are filled with humanitarian aid, which will be transferred to the Lviv region today," Dworczyk said.