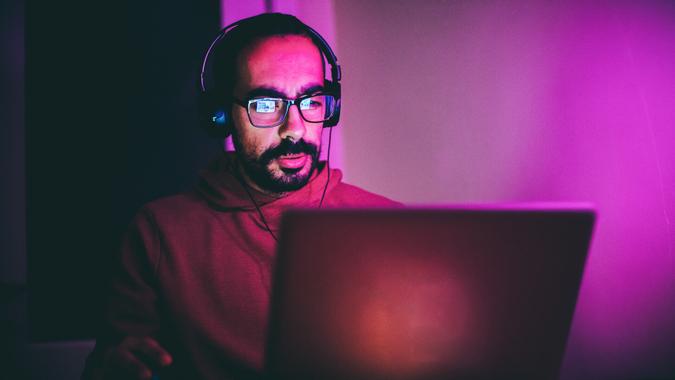 agrobacter / Getty Images
Niche investing opportunities become more popular as investing is more widely available to the average person. Investors are increasingly interested in familiar brands that offer a sense of nostalgia or excitement. For investors interested in the video game industry, which gaming stocks are worth the investment?
Top 10 Gaming Stocks to Buy Right Now in 2022
All of the numbers in the table below are based on data collected on Jan. 5, 2022 from Nasdaq.com.
| Gaming Stock | Share Value | One Year Target | Share Volume |
| --- | --- | --- | --- |
| Electronic Arts (EA) | $135.01 | $168 | 1,025,370 |
| Take-Two Interactive Software (TTWO) | $172.605 | $215 | 729,874 |
| Zynga (ZNGA) | $6.21 | $10.50 | 9,358,902 |
| Activision Blizzard (ATVI) | $66.76 | $90 | 7,267,523 |
| Tencent (TCEHY) | $55.375 | N/A | 5,132,875 |
| SciPlay (SCPL) | $12.01 | $17.50 | 645,267 |
| Nvidia Corp. (NVDA) | $280.90 | $335 | 29,884,252 |
| Microsoft Corp. (MSFT) | $320.28 | $361.50 | 21,093,300 |
| Alphabet Inc. (GOOGL) | $2,800.23 | $3,250 | 1,364,354 |
| Sea Ltd. (SE) | $185.28 | $380 | 11,570,892 |
1. Electronic Arts (EA)
EA, with its broadly popular EA Sports subdivision, produces 70% of its revenue from the game brands FIFA and Madden. Based on historical trends, experts believe that Electronic Arts will outperform other video game brands that have lower quality scores. It currently ranks in the 75th percentile for return on assets and 86th in buyback yield.
2. Take-Two Interactive Software (TTWO)
This company represents two popular gaming brands – Rockstar Games and 2K. Grand Theft Auto and NBA 2K are two popular games that many people may recognize. It shared that Q2 2021 revenues were down 2.2% from the previous year to $813 million. Still, demand for new gaming consoles may help to drive revenues and stock values back up again.
3. Zynga (ZNGA)
This is a brand name that many people recognize from mobile and online games like Words with Friends and Farmville. Its presence on social networks makes it an investment contender. Although it's a little pricey, it's still worth watching.
4. Activision Blizzard (ATVI)
As one of the largest video game brands in the world, Activision boasts video game brands like:
Call of Duty
Candy Crush
Overwatch
World of Warcraft
Experts anticipate stock value growth of 30% or more in the coming year for Activision. One reason for these estimates is that Activision has plans for video game innovation to generate new revenue streams for the company.
5. Tencent (TCEHY)
This is the largest video game stock worldwide based on revenue. The brand is strong because it holds an impressive number of stocks in other video game companies, too. An increase in mobile game popularity in China is driving demand for Tencent branded games. The company's revenue is trending with a mid-20% growth anticipated over the next several years.
6. SciPlay (SCPL)
This brand is known for casino-like online games. It reported solid earnings in the last quarter report that only fell slightly below what was expected. One pro of SciPlay is that the company ended 2020 with no debt and $269 million in cash.
7. Nvidia Corp. (NVDA)
Nvidia innovates the powerful graphics cards that are necessary for the best video game performance. Many esports leagues and streaming influencers boast Nvidia as their brand of choice for graphics cards. In Q2 2021, Nvidia saw an 85% increase in revenue within the gaming segment thanks to the release of the new GeForce RTX 30 series graphics cards.
8. Microsoft Corp. (MSFT)
Microsoft is well-known for its professional software and cloud services. Microsoft is a household name. But many people don't know that it's also a major player in the gaming industry. In its fiscal fourth quarter, the company shared gaming segment revenue of $3.7 billion, which was up 11% from the previous year. Next-generation Xbox gaming consoles and a new installation in the Halo series point toward revenue continuing on an upward trend.
9. Alphabet Inc. (GOOG, GOOGL)
Alphabet is the umbrella company of Google and YouTube. Many people may not relate these names to gaming, but YouTube boasted 40 million active gaming channels on its platform in 2020.
This included a total of more than 100 billion hours watched, which adds up to a lot of advertising income. YouTube saw impressive revenue that went up 66% in the first half of 2021 to $13 billion and no signs of slowing down.
10. Sea Ltd. (SE)
Sea Ltd. is an umbrella company to three brands: Garena, Shopee and SeaMoney. One of these segments boasts an impressive presence in Latin America, Taiwan and Southeast Asia. Garena creates online games for mobile devices and personal computers.
In Q1 2021, Sea Ltd. shared that revenues increased 146.7% over the previous year to reach $645.4 million. The company's upward trend is strong and shows signs of continuing for a while.
Takeaways
The video game sector is booming with growth anticipated for years to come as new technology challenges the industry to develop further. Investors should consider video game industry stocks in their overall investing strategy. These ten stocks are a great way to diversify portfolios and strengthen a long-term growth plan.
Information is accurate as of Jan. 5, 2022.
About the Author
Katy Hebebrand is a freelance writer with eight years of experience in the financial industry. She earned her BA from the University of West Florida and her MA from Full Sail University. Since beginning to work full-time as a freelance writer three years ago, she has written on topics spanning many fields, including home building, families and parenting, legal and professional/corporate communications.